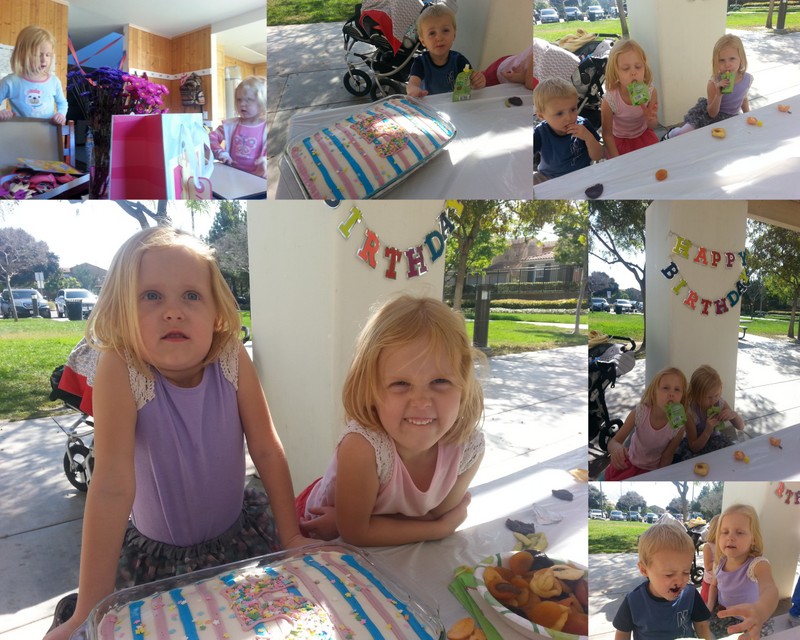 Whenever the girls have a birthday it doesn't seem like the right age, because in my mind Andrew was just that age. Andrew was 5 still back in August. How can the girls be 5?
Our ward does park day on Fridays, and the girls birthday was on a Friday, so we just decided to commandeer park day and call it their birthday party. We had a few treats and a cake (Isn't it cute? I made it myself with just frosting and sprinkles.), and skipped the games and presents. It was a beautiful day. The weather was just perfect.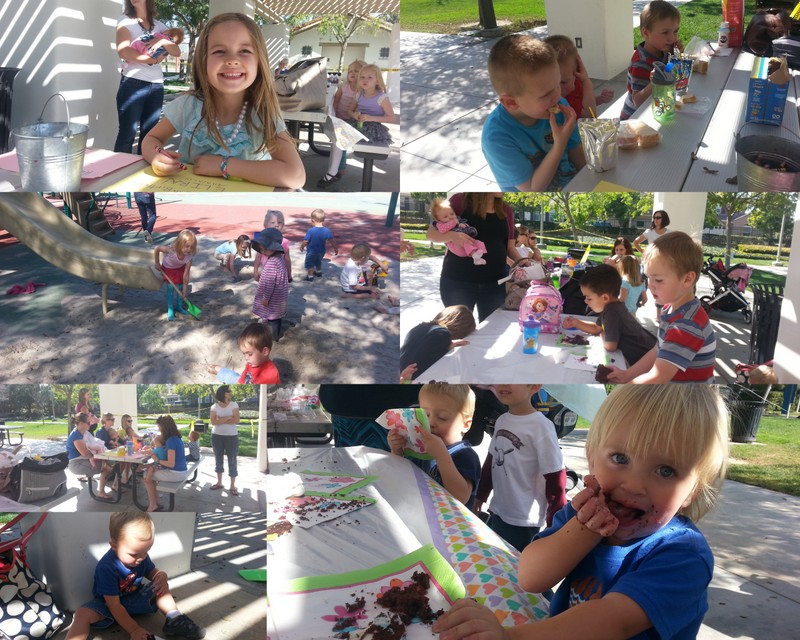 Zana and Elira are really growing up. They are starting to read and love, love, love to color. Every day they ask me to print out a picture for them to color. They choose what they want, I do a google image search for that thing (just add "coloring page" to the end of any subject and google rewards you handsomely), and they try not to bash my head on the keyboard while they spend 10 minutes choosing which kitty picture of the hundreds they see is the one they want. (I don't know why I'm so impatient on that part. I'm trying to be better.) They pretend they are at school a lot of the time and the coloring is their homework.
Like I said in the post about Miles they are not sure how to handle him lately. They like him, but he gets upset with them and ruins their coloring pages (gasp!) and steals their snacks and things like that. Then they scream and come running to me. Now they just assume Miles is going to do something bad, so they scream preemptively. It's annoying, and I don't know how to fix it yet, so I just tell them to try to work it out with Miles.
Elira still likes things to be purple. She loves to take care of Lydia and hold her. She usually loves to eat cucumber, although lately she's eating more tomato than cucumber. She loves it when people give her gifts. It's her main love language and it's not mine or Scott's, so we usually neglect to give her little things, or we try to give little things to her and to Zana, and I can tell she doesn't think it is as special. I'm trying to give her more little gifts, I just forget. She also really likes things to be perfect. She gets frustrated easily when she is working on something and not quite getting it. I'm learning that it helps her if we practice a few things that are easier for her, so she can feel confident about getting it 100% right and then work our way back up into the harder stuff, and by the time we get there she usually has it down. We did this with her reading lessons. We backed up about 5 lessons and worked from there and now she's way past that spot we were getting stuck on. Elira also likes to design things and have others carry out the plans. She often asks for a paper so she can draw a unicorn or whatnot and then sits down and asks me to draw it. At first it was frustrating, because I wanted her to do her own stuff, but I am seeing it now as a different way of being creative. She is harnessing the skills of others to carry out her dreams. (Sounds good when you put it that way right?) Elira also really likes praise at how clever she is. She often asks things like, "How come the other guys (Zana and Andrew) didn't make their unicorn as good as me?" Little stinker, she's just like my sister Sara.
Zana likes to tackle a task and work on it until she gets it down. She doesn't get frustrated with a hard task, she just keeps working and asking for me to help her practice. Since we're talking about love languages, hers is probably quality time, because her favorite thing is for me to read books to her. She asks me multiple times everyday, and I read until I start to doze off, and then I take a 20 minutes nap. Zana has this amazing ability to memorize books (and Articles of Faith) without really trying. After reading a book to her just once or twice, she has it memorized word for word. She loves to sit in her room and "read" the books to herself. When she gets to reading more than just the short stories in the reading lesson book  we have we're going to have to get a new book every day to see if she's really reading it and not just repeating the memorized words. Zana likes pink the best still, but has been liking blue some too. She likes to make tea parties that Scott, Lydia and I get invited to.
The girls have this idea that one of them is bigger or taller than the other. I keep forgetting which one they think it is. It's totally absurd, because honestly no one can tell the difference between them. I gave up explaining that they are exactly the same size, and just laugh at their silliness.