The Great Cromar Blog Catch-Up: Post 7 of 16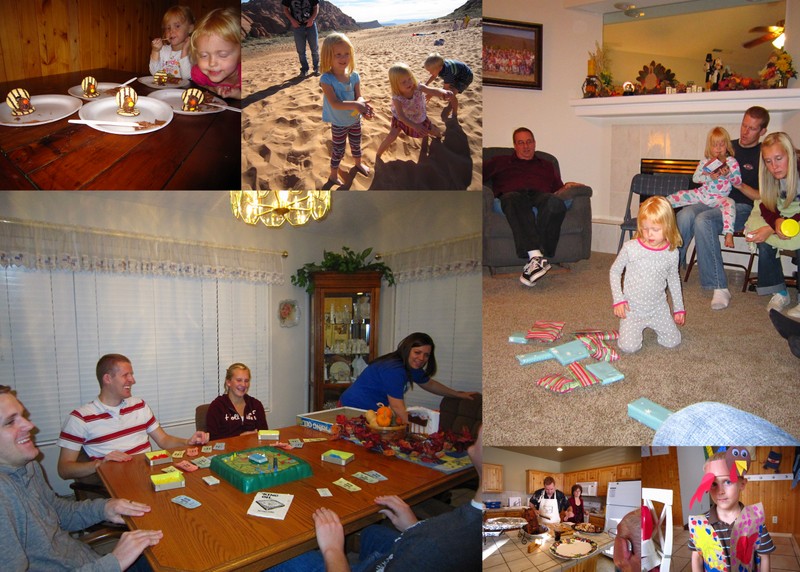 I love Thanksgiving! Growing up it was my favorite holiday, because it was also always near or on my birthday. Guess what! Next year my birthday will be on Thanksgiving again, yay! It happens every five or six years, but the last one got skipped because a leap year made it skip my birthday. The last one was in 2002 and I have been waiting.
Leading up to Thanksgiving, Andrew made a fun vest and hat at school and at home we made some turkeys made out of striped Keebler cookies and rolos and M&Ms.
For Thanksgiving we went to St. George, Utah to visit Scott's grandparents the Healeys. Scott's whole family was there. We weren't able to see Nate and Allison much at all while we were in Illinois, so it was so fun to visit them and play with their son Jett. Allison and I were entertained watching the original Cromar kids play board games, especially when we were all so exhausted from driving there. I got into laughing uncontrollably at everything mode, which happens when I am up too late, and hasn't happened in a long time.
We went swimming in the heated pool, went to some sand dunes, launched our rockets, drove Scott's RC car, went to a trampoline/bounce house place and played lots of board games. We played the grandma game, which is like white elephant/yankee swap, but with treats and candy as gifts. The kids were involved this time, so we kept announcing  that "Zana was satisfied with the gift she had" or "Andrew was not satisfied with his" so no little feelings would be hurt, but they could get a chance to steal again if they wanted. It's so funny to watch their eyes get big every time a new treat is opened that they want and to see them re-evaluate their decisions.
Thanksgiving dinner was provided by long time family friends of the Cromars (Scott's parents I mean), the Snethen Family. They live here in California in my in-laws' stake, but also had a time share in St. George, so they were there with all their family. The Snethens always make awesome food, and they were even really nice and made me a few non-dairy things for Miles' sake. I still had to try their mashed potatoes that were loaded up with butter and sour cream though. Super yummy, and not too much to really upset Miles.
Also, there's more pictures to be seen of Thanksgiving here.