So after all the fun of our last post, I figured I couldn't leave off the rest of the stuff we did in the summer. By the way, you can see all the pictures from this album if you click on Scott & Cat under the photos tab above, which will lead you to this page.
After getting back from family reunion, my sister Sara came from Connecticut to visit. Really she came to visit my Grandma Wilkie, but we enjoyed seeing her too.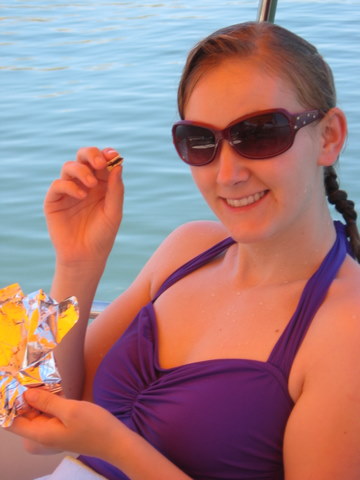 We wanted to take the boat out to the lake (because we just couldn't get enough of skiing), so we figured we'd better take Sara with us.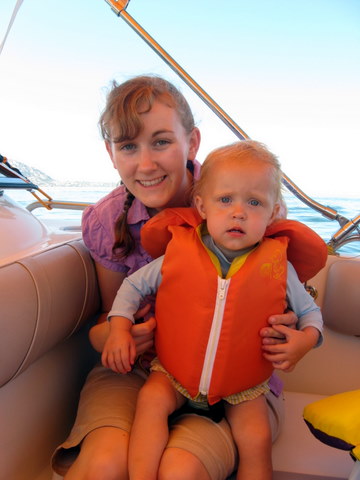 Andrew loves his "big friend called Grandpa."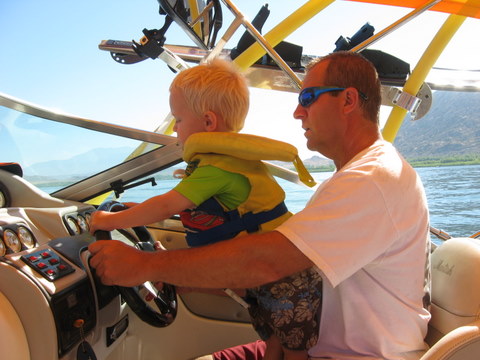 Okay, although this looks calm and relaxing, just floating around on a lake, it scares me to death. I just don't like my kids floating around in 20-ft deep water. I know they had life vests on, but I've been a life guard and I've been abalone diving enough to know that none of us have even the slightest chance of getting them if their vest comes off or something…sorry to scare you. Go back to pretending  that it's nice and relaxing.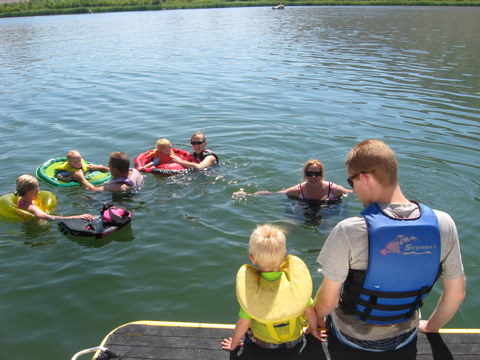 Sara and I also spent some time with my mom and aunts and uncles at my grandparents' house.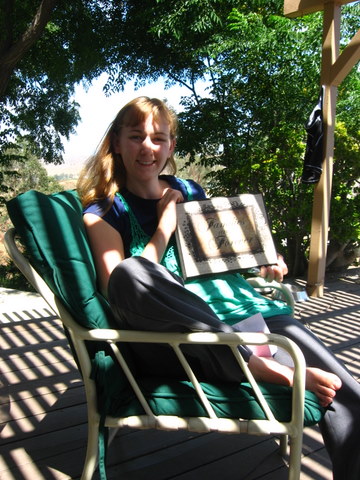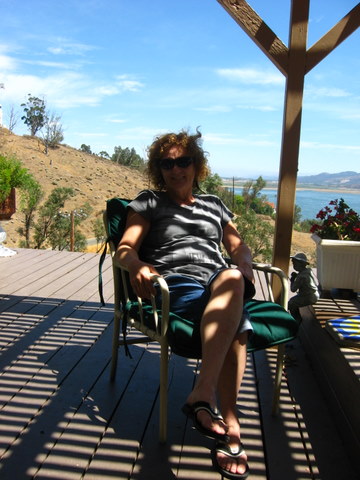 After Sara left, we had some more fun at parks in Irvine,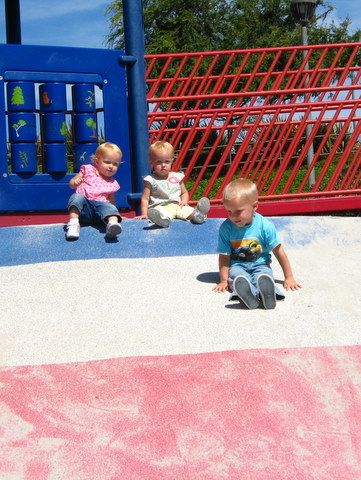 had a very fun and peaceful day at the Santa Ana zoo,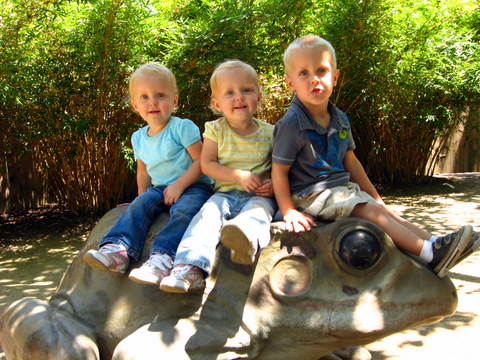 rode the rides at the Orange County Fair,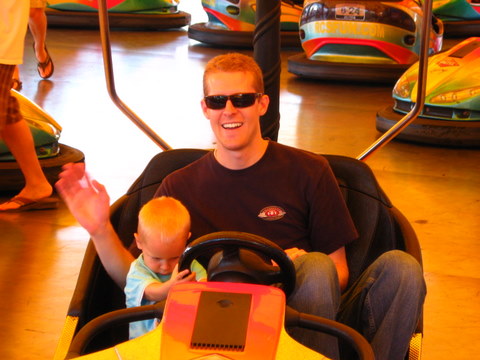 played on Grandma Cromar's slip and slide with Scott's sister Tara,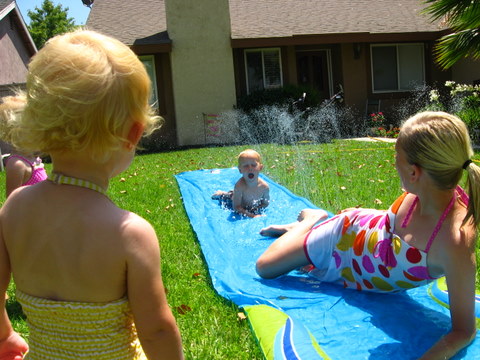 met up with my friends from high school Sun (next to me) and Megan (on the right) for some awesome Korean food (that I'd been craving for.ev.er.) and hanging out with the kids in, as Sun put it, "their natural environment" a.k.a another park,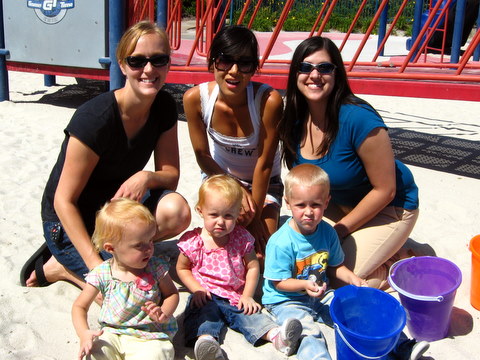 and often ended up with this,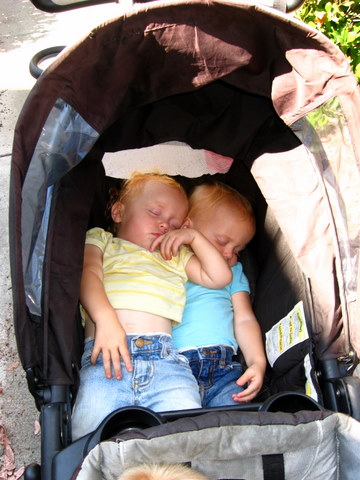 and this,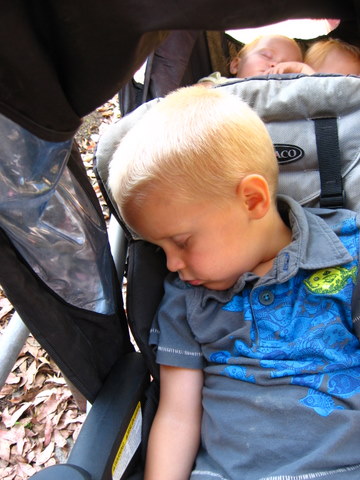 and a whole lotta this.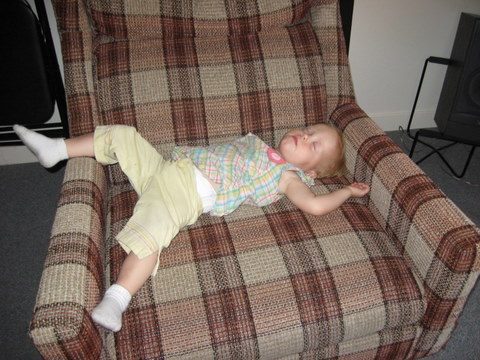 Oh, and Andrew had his third birthday,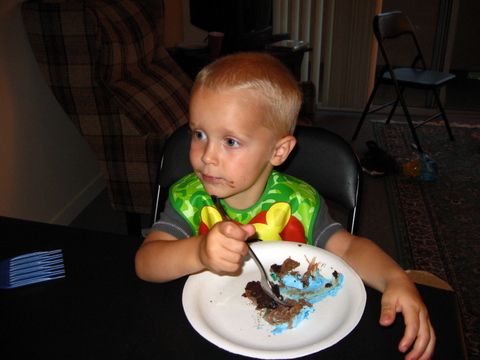 which involved beach-themed ice cream cake.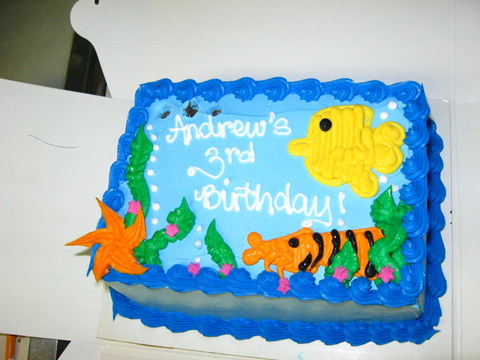 At about this time I lost our camera! Luckily, it was only about a week before we were heading home to Illinois and that we had been putting our pictures on our computer during the summer. You're only missing out on pictures of Disneyland and our visit to UCSD. I was just sad to have to buy a new camera. Though if anyone on the UCSD campus found a Cannon PowerShot 570IS in the Price Center, with some pictures of the cute kids seen above on it, I would be really happy to have my camera back. Thanks.