So I actually wrote this post back during the actual summer, while we were actually in California. Sadly, I just got around to selecting and uploading the photos now. So here goes our awesome summer in California.
___________________________________________________________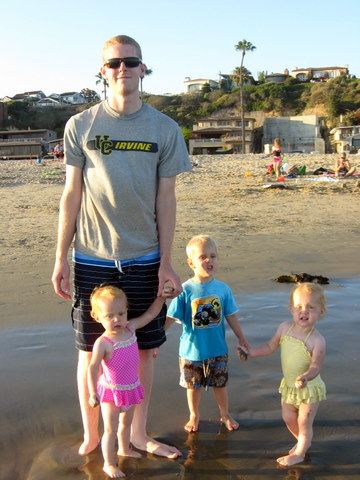 Scott and I have been slackers at blogging lately (like for the past year). This has been for a number of reasons, but the most recent one is that the main people we write posts for (our parents) know exactly what we've been doing. Mostly, we've been hanging out with them…and driving.
We drove out from Illinois to California at the end of May. Scott's a die hard, not want to stop ever, too bad if you have to go to the bathroom, drive all night while the kids sleep kind of guy. Okay, he's not that bad, but we did make it in one straight shot driving 36 hours with stops only when we got too hungry or the kids got too crazy.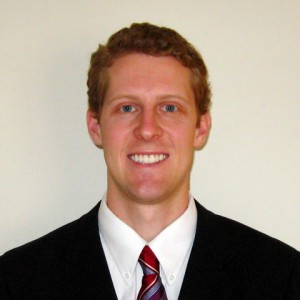 We came out to California, because Scott has a summer internship with a law firm in Costa Mesa. We both want to come back to California permanently and this job feels like we're getting our foot in the door to come back. Additionally, we're enjoying the 9 to 5 (well 6) kind of day, where we get to play all evening…and we've been playing a ton.
The kids and I have packed a lunch pretty much every day and headed out to some of the parks in Irvine and nearby. We love, love, love the 75 degree weather with little humidity. We're getting very tan and now I don't have to get highlights put into my hair like I was considering. I've felt less stressed and have been enjoying playing with the kids more than I have in a long time. I have even been feeling like I am receiving answers to prayers more often and more easily than I have in a long time. Is that weird or am I just less busy and more able to ponder and meditate?
Not only that, but we have a tone of time to spend with family. (Well, the kids and I do.) We been hanging out at Grandma Wilkie's.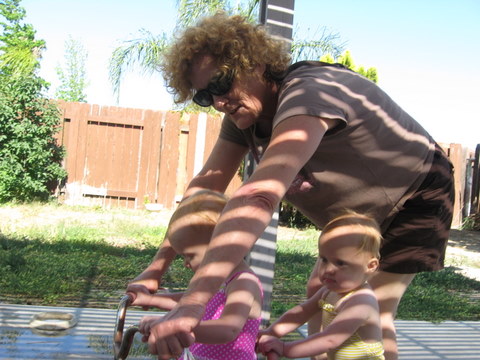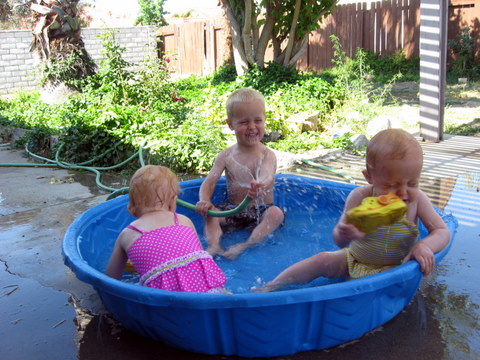 Just counting the major trips, we've traveled about 5,100 miles so far(although the 70-mile trips to our parents house every two weeks adds up).
I took a trip up to visit my dad and other relatives in Willows, California. It's a small little town, and most of my dad's family lives in the area. Is it weird that I know that I could show up in Willows and find my dad within half an hour with no prior knowledge of what he was doing that day? In the off chance that I didn't find him, I would be sure to run into a few relatives in the process. In one day, I saw Uncle Greg and Aunt Becky outside a restaurant, ran into Uncle Kevin and Grandpa and my cousins Alisha and Tami at my grandparents' house, visited Grandma in the hospital (she broke her pelvic bone the morning before we got there) and saw Aunt Judy there, and we called Uncle Ervin to hang out at a park with my Dad and the kids and me.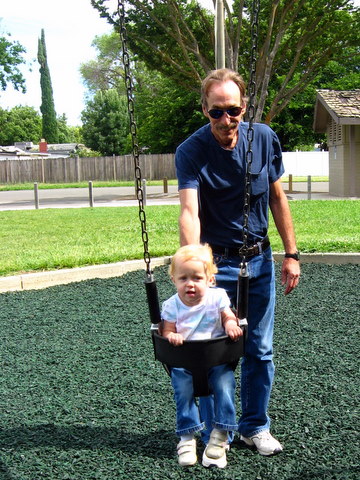 After the kids and I got back from visiting my dad, we all went with Scott's family to their family reunion near Denver. We couldn't believe we were really driving halfway back to Illinois.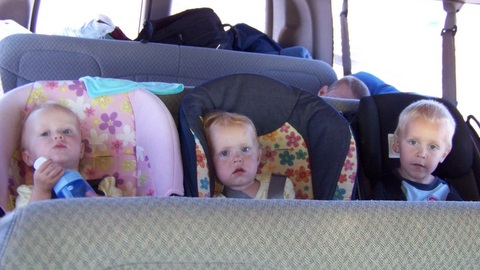 On the way we swam at Grandma and Grandpa Healey's house (Scott's grandparent's) in St. George. The water was nice and warm and the pool has some cool rock and waterfall features. Andrew loved it. We also saw fireworks, since it was the 3rd of July. After another day of driving, we stopped in Glenwood Springs, Colorado for some more swimming in the hot springs pool. Scott and I went on the diving board and I proved I can still do a one and a half flip. The kids got super wrinkled and we all enjoyed the hot water, despite its smell of sulfur.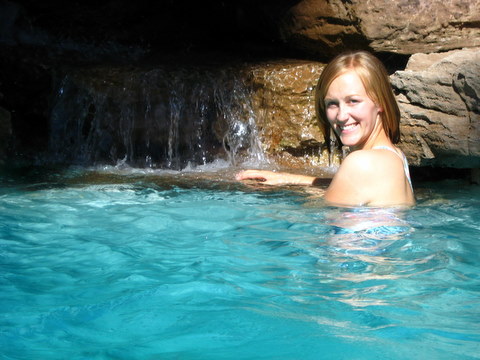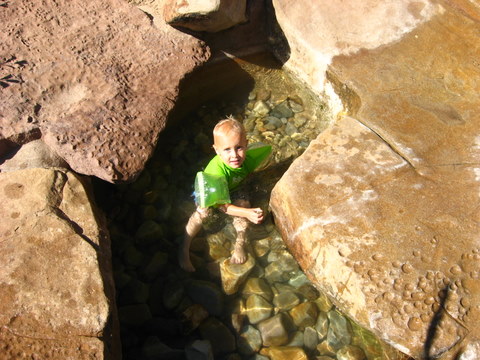 After yet another day of driving we made it to the YMCA of the Rockies where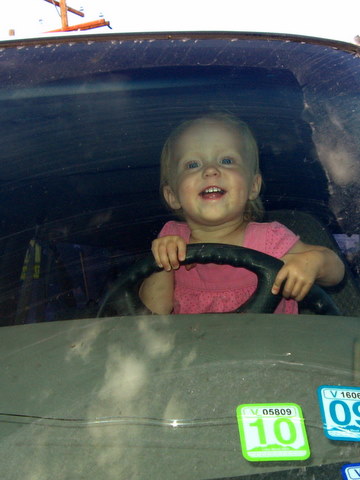 Andrew went roller skating for the first time,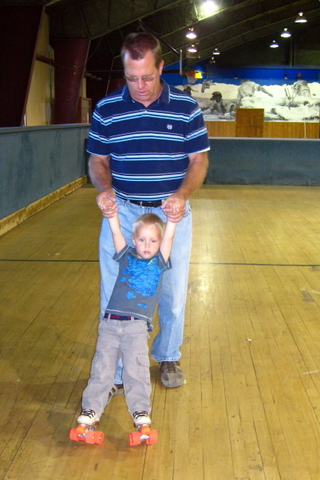 the girls rode trikes for the first time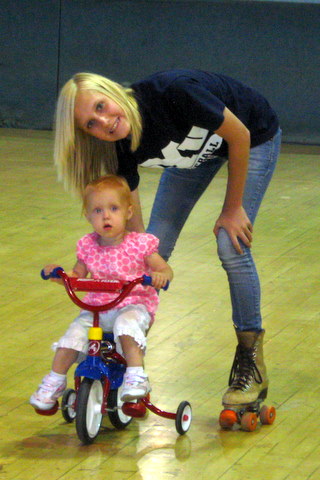 we rode the alpine slide in Winter Park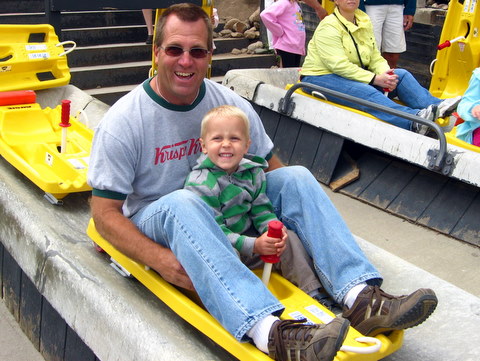 and we played ping pong, volleyball, killer frog, do you love your neighbor, Healey family jeopardy, and human guess who.
When not traveling, we have enjoyed some of southern California's many activities:
gettin' sandy at Corona del Mar beach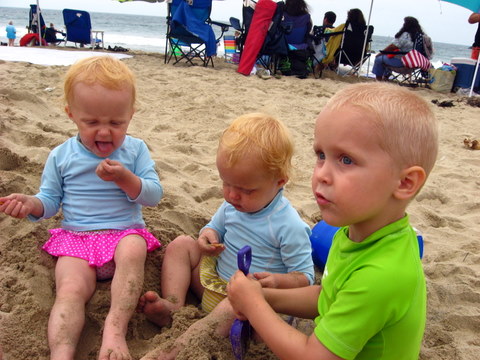 gettin' splashed at Knott's Soak City and ridin' some wake at Lake Perris.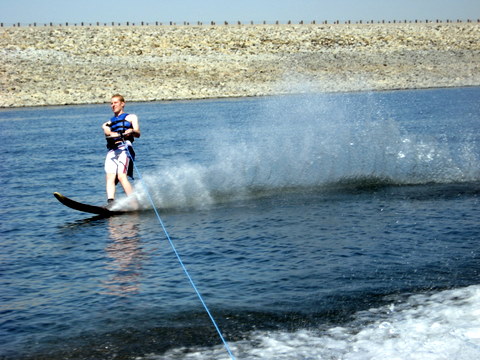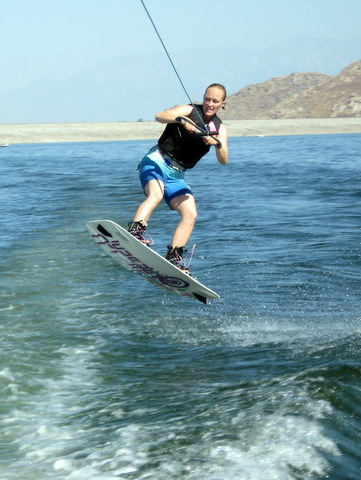 So, all you guys hanging out back in Champaign, with your barbecues and your trips to Hessel park, and your Tastes of Champaign, I was feeling left out and jealous. Um, but now I'm not. But I do miss you…wish you were here.