Man, this semester is flying by. It seems like we just got back from California and we're over halfway done with the semester, a lot of Scott's short-session classes are ending, and it's practically the holiday season! Sheesh. This fall we've been lucky to have really nice weather and we've been almost completely healthy, so we haven't been missing the freedom of playing outdoors that we were enjoying so much in California.
Like I said in the previous post, Halloween was a ton of fun, but September seemed to be lacking something. We were getting settled back into our house and routine and all, but I felt like we sat around all month waiting for October, so we could decorate the house for fall and start planning our costumes. I mean seriously, the only pictures we have for the month are some out of focus ones of people playing around the house, and a couple of when Andrew learned to ride his bike without training wheels.  I need a new tradition to keep September interesting…any suggestions.
Anyway, Andrew started a new preschool where my friends and I take turns teaching. I think being in California with no friends really threw the kids off, because they have had a lot of trouble going to their church classes, going to preschool and being left with babysitters… "I just don't like their mom," was a frequent reason given as to why they didn't want to go play with their friends. A couple weeks ago my friend Ashlee was babysitting them just so I could have some time to myself (I should do a blog post about how I went shopping just for me that day, and about the cute things I made from the fabric I bought), and I literally left her house by prying three screaming kids off my legs, with Ashlee and her husband physically restraining them, and sprinting down their stairs (I'm quite pregnant too, remember) yelling "I think they'll be fine in a minute." Which they were, and they ended up having a great time while I shopped, but that was what it was like every time I left them.
I think they are over it now thankfully, since they have happily gone over to several people's houses without crying at all. Andrew has been really liking all the things he's learning in preschool. Actually, the first day he started doing better at staying places was when I spent the whole ride there telling him all the things about bears that he was going to learn at preschool that day. Every time he started crying or saying how he "didn't like their mom," I'd tell him some random fact about bears and that would quiet him down.
So the other things we've done this fall were some field trips for preschool (grocery store tour, fire prevention week activity, and farm equipment store tour) and our trip to Nauvoo.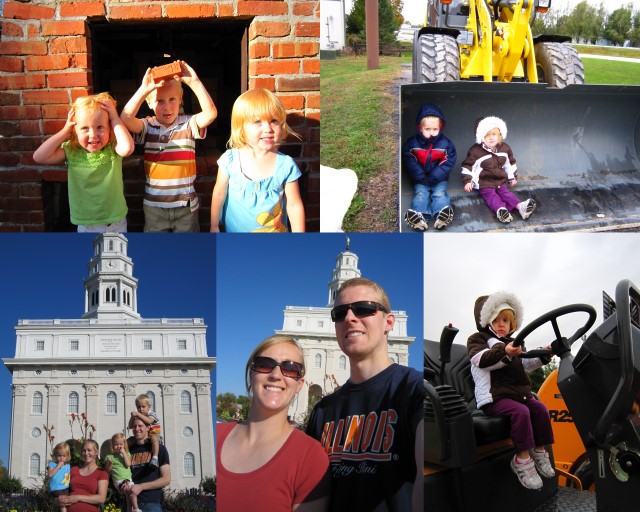 We had talked about how we should take the kids to Nauvoo again since they are bigger and would enjoy it more and how we had to do it before we moved from Illinois, and then we talked a little about how the weather was so nice we should go before the baby came, but through all that I was thinking Scott had too much school work to take a whole Saturday and go on a trip. So he surprised me by coming home Friday at 6pm and asking, "so, are we going to Nauvoo tonight?" It had been a rough day with the kids, so it took me a bit to get in the spirit of things, but we went and it was really fun.
We ran into some law school friends there and tried to swap babysitting while we went to the temple, which resulted in more screaming kids clamping themselves to our legs, and we gave up on that and just went in one at a time. We got to see some of the fun things in Nauvoo, but the pioneer pastimes activity was closed, and that was one of the main ones I thought the kids would enjoy this time.
Oh, that reminds me, I did take the kids to a little town an hour away from here called Teutopolis. Turns out my great-great grandfather Ferdinand Hattrup was born and lived there along with a ton of other relatives that had come to the US from Prussia. I knew my great grandma (Ferdinand's daughter) pretty well growing up, so it was cool to see where her dad grew up and to check out a lot of old gravestones at the cemetery. The camera was broken that day, sadly, but we got some cool gravestone rubbings (with crayons and paper found in our 72-hour kit).
So that was the start of our fall. Hopefully this post didn't turn out too boring, even though it is a bit long.