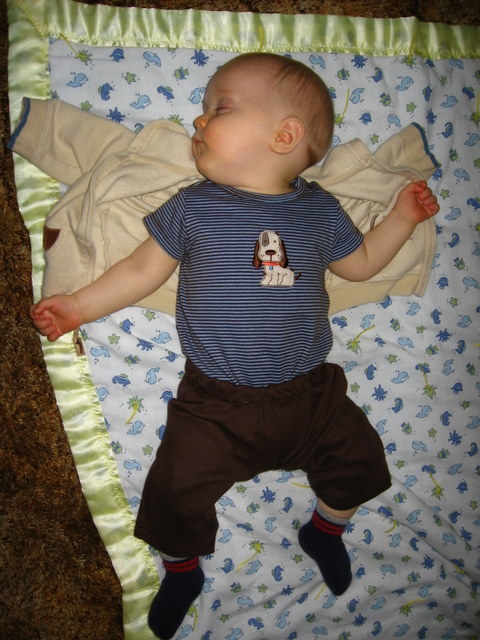 A number of things have recently occurred regarding our sleep habits, which have culminated in the perfect storm of non-sleeping mania:
Andrew got his first fever and we let him sleep in our bed, because we thought he needed the rest and he wasn't staying asleep for long in his bed. After just one night of snuggly mommy sleeping goodness (he actually crawled on top of me, so he was kneeling on the bed while resting his chest on me), he started refusing to sleep alone!
The kid went through a growth spurt and was hungry 4 or 5 times a night, because supply couldn't keep up with demand.
Scott and I started to have hot cocoa in the evenings whenever the weather was colder than the day before. Not just instant hot cocoa, but made from scratch real cocoa. I finally realized it was the caffeine in the cocoa affecting me.
So, we tried yet another sleep solution book, and I stopped drinking hot cocoa at night. We finally have had some success with this new sleep solution book The Baby Whisperer Solves All Your Problems, and Andrew can now fall asleep with much less help from us.
Yesterday, I got up at 6:30am with Andrew, until Scott woke up at 7:30. Then, I went back to bed until 10:30. Scott took care of Andrew all morning and let me get some sleep. He's so great! Sleeping so much backfired, and once again I had trouble falling asleep. But today, Andrew and I slept until 8:30. It was the perfect amount of sleep, so we now feel really well rested and it shouldn't keep us up tonight!
Yay for sleep!