The Great Cromar Blog Catch-Up: Post 10 of 16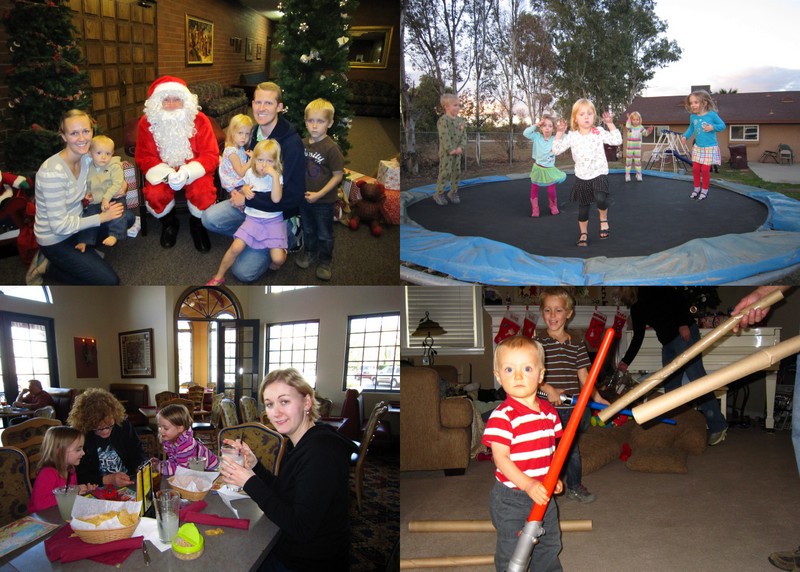 Before it was officially Christmas, we had our ward Christmas party. It was the first time the kids would go anywhere near Santa, so we got a cute picture with all of us. At the ward party we watched a video of the primary children answering questions about Jesus birth and life. It showed five to ten children answering each question. It was really cute and funny. The kids were really enthralled by it, and it held their attention for about 20 minutes, which is amazing really.
Then, Sara arrived with her girls a couple of days before Christmas. They stayed one night with us (making good use of our new-to-us sofa bed), but were planning on staying with my mom for the rest of their vacation.  And since we can't fit all our family and hers in our van at once, I got to be the one to drive them to meet my mom. We decided to meet halfway between our houses and stop for lunch there. My mom kept staring at us and smiling and saying, "Both my girls here at once." We had Mexican food. I could really go for some horchata right now…mmmm.
We drove over to Menifee to visit Scott's family one day. We had light saber fights, rode the quads around the back yard, and played all day. The kids love playing with Grandpa Cromar. They follow him around like little ducks. I think Andrew was even helping him locate a mouse in the attic. Later, Sara and Emmy and Lanea came over to play at the Cromar's too. All the kids jumped on the trampoline and played on the swing set.