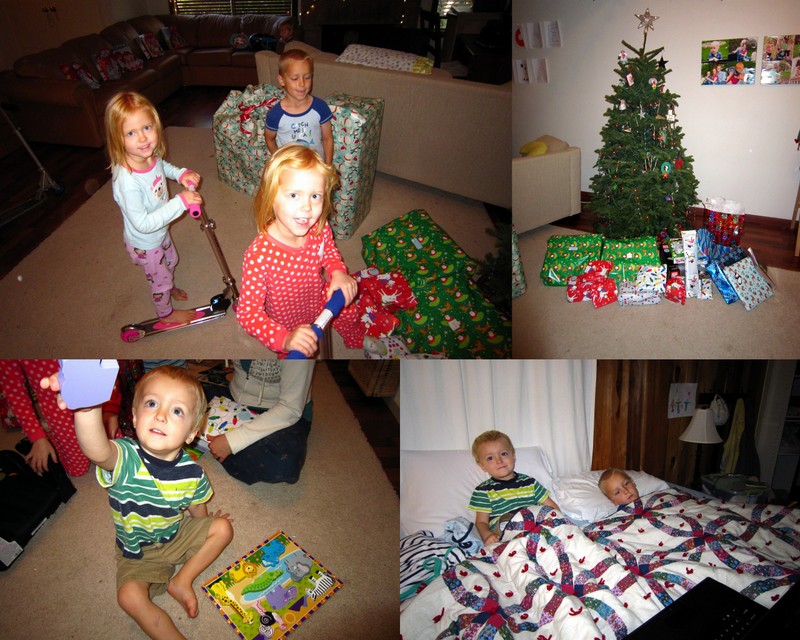 I really enjoyed our Christmas. It was our second time having a really new baby at Christmas, since Miles was born in November and Lydia in December, and it just makes everything so sweet. Also, I was smart and had all my shopping done before Lydia was born. I try to keep gifts simple for the kids, so they got a play kitchen to share and a razor scooter each. Andrew, the sneaky guy, looked over our upstairs half-wall and saw all the scooters before we went downstairs. I even heard him tell Zana and Elira about them…that little punk. I was glad I had made Scott wrap the play kitchen so they'd at least be surprised a little. I guess we'll have to make sure everything is hidden next year.
Last year I tried to start a tradition of wrapping all our Christmas books and opening one each night as our bedtime story. I'd seen the idea on pinterest and let the kids help wrap up the books and everything. It was such a cute idea… It totally backfired. Every night the kids were mad when the book they unwrapped was not the one they were hoping to read that night, and it just caused mucho crying. So this year we just made a pile of Christmas books and let them choose one each night. Worked so much better. We also followed a chart that had one short set of Bible or Book of Mormon verses about Christ for each night in December, so that was our nightly scripture study. Simple and fun.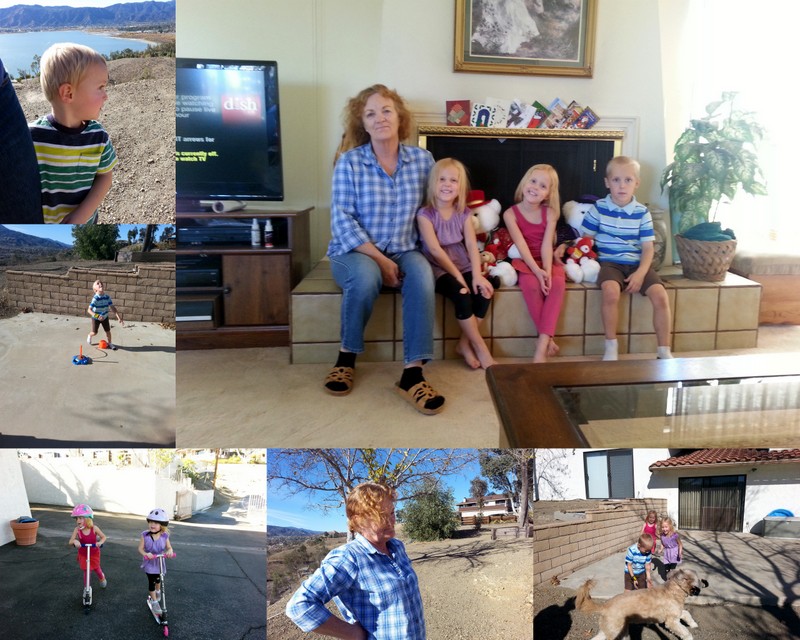 Having both of our families near makes it fun. The past two years we have done Christmas morning at home with just us and the kids, then we headed over to Grandma Wilkie's house in the afternoon to open gifts with her and Great-Grandpa Wilkie, and to play with Phoebe the dog of course. The kids rode scooters and played with Andrew's rocket that you stomp on to launch. Then we headed over to Grandma and Grandpa Cromar's for more gifts and fun. This year we continued on to friends-of-the-family the Snethens for an amazing prime rib dinner. Scott's parents have been good friends with the Snethens for years, so we do a lot of holidays with them and they always make a ton of really good food.
Despite the prime rib dinner, something was missing from our Christmas…Did you know that I didn't eat red meat for all of high school and college? Yep, and then I got called on my mission to one of the beef capitals of the world. Argentina would have been very difficult without switching back to eating red meat. Anyway, there is one reason why back in high school I kept eating poultry and fish instead of becoming a full vegetarian, and it is called turkey. (Sadly, nobody eats turkey in Argentina. I kept trying to sell them on it. And people there are really curious about Thanksgiving. They always commented on it and asked, "So…you just get together and eat all that food (that they see in the movies) and you eat turkey?") Sorry I keep getting off track. So whenever I don't get enough turkey, we just make ourselves some. So here is our post-Christmas turkey dinner. It was the best. turkey. ever. Oh man, it turned out so good. I used the spices in this recipe under the skin (although I don't seem to ever have lemon pepper on hand, so I just used pepper, and less of it), but also added a little butter under the skin as well, and cooked it in one of those plastic bag dealies. Using so many spices gives it so much flavor and making gravy from the drippings makes the best. gravy. ever. If you don't know how to make gravy, come over and I'll teach you. It's not really that hard. The turkey came out so moist. Oh, and I used my mom's stuffing recipe which is:
Stuffing
2 bags Mrs Cubbinson's seasoned corn bread stuffing
1 C chopped cashews
butter
1 C onion, chopped
1 C celery, chopped
2 or more cans cream of mushroom soup
Saute the onion and celery in some butter. Throw it all together. Adjust the amount of cream of mushroom soup to get the right consistency, sometimes add a bit of water or broth if you're not cooking it in the turkey. Heat it in the oven or in the turkey.
Okay, I'll stop, but seriously best. dinner. ever. If only I had a freezer with some turkey in it, I think we would be eating that tomorrow for dinner.