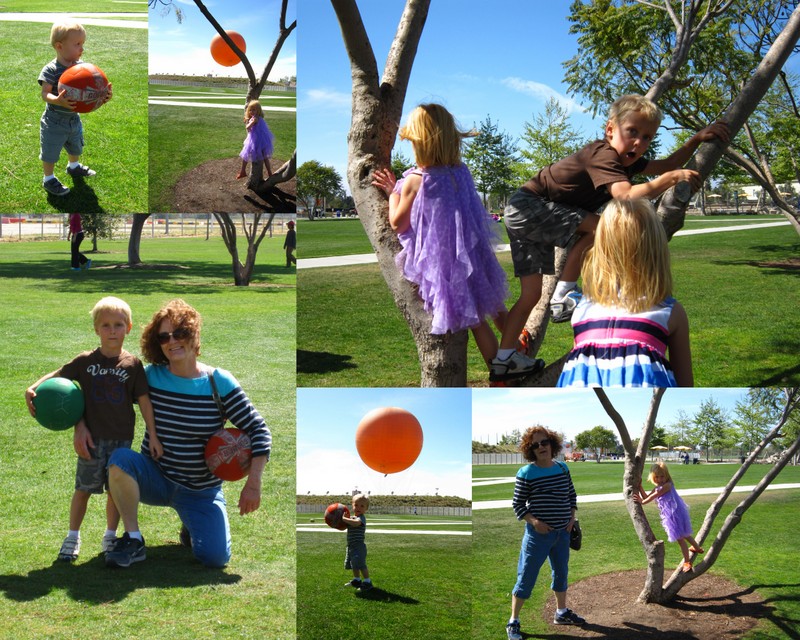 This post can be filed under things to do in Orange County. Let me introduce you to the Orange County Great Park. The park is kind of the subject of an ongoing political debate about whether money spent on the Great Park is money well spent. It is built on the land once occupied by a marine base, and the city of Irvine has spent a lot of money to turn it into an attraction. Currently, the main attraction is the balloon ride. It's a giant orange (like orange county, get it?) balloon filled with helium that is tethered to the ground, and it takes you up I don't know how high. You can see for miles. Other fun stuff at the park include a lawn with balls to play with and trees to climb, and kinda boring playground that's supposed to look like some sort of  asian rock garden, and a carousel. Oh, actually there's a pretty cool garden area that demonstrates some interesting gardening techniques.
Up until two weeks ago all this was free. Then they changed the price to $5 for the balloon, which seems reasonable, but with six of us, $30 for a ten-minute ride seems a bit much. Anywho, enough of the promo. We've been to the Great Park a few times now, but only succeeded in riding the balloon once. We tried to take my mom, but all the flights were booked up for the day. The kids love the carousel though, and if there's no one waiting in line, you can just ride and ride a bunch of times (except now it's also not free). And the kids played with my mom on the lawn kicking around soccer balls and stuff. And despite all the hype, there's really not many people who go there. Which does make it kind of a nice place to take the kids for a few hours. Kind of like going to Curtis Orchard in Champaign.  If only everything was still free…there's not much free in Orange County.
I have to say though that all the pictures in this post are adorable. Just look at little Miles riding a carousel. And Andrew hanging out with Grandma and climbing trees. And of course a really cute picture of me with the kids. So fun.