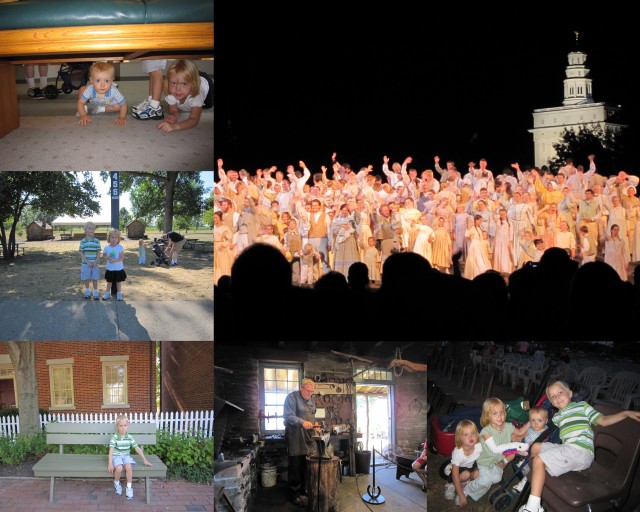 Finally, the bar was over (hurray!!!) and we could play. Living in Illinois for 5 years, we had never yet been to see the Nauvoo pageant, so we wanted to do that….and there was barely enough time. We saw one of the last performances of the year. The pageant itself was cool. I had never been to any of the church pageants. It's amazing that so many people would donate so much of their time to put on a show. I loved that it taught a little about the history of Nauvoo. I did think it was really funny that many of the volunteers kept trying to sell me on the pageant. They kept saying how amazing it was and how they were blown away the first time they saw it and how I would really love it if I went to it. I just kept thinking, "Look, we just drove 4 hours to see it. It starts in 15 minutes. I'm pretty sure we're staying to watch it."
My favorite part, though, was the frontier country fair they had right before the pageant. We didn't get any good pictures of it, because we were having so much fun. They have old-timey crafts set up for the kids to do like make dolls out of scrap fabric and string. They had the obligatory stick pull, along with rolling a hoop with a stick, walking on stilts, and hand cart pulling. There was square dancing to a live band, and tons of volunteers (adults and kids with their families) who were dressed in pioneer clothing.
The best part was that it was really fun…I don't mean the "I'm at a church activity, so I'll say it's fun, even if it's not super fun," kind of fun, I mean people were really laughing and joking and playing together and the kids loved making all the crafts. I think it felt like a real, authentic 19th century town activity. Which added to what all the activities of Nauvoo are all about: remembering the people that lived there, what their lives were like, they joys they felt there as they built a city to call home, the trials they endured there, and ultimately, all that they left behind to follow a prophet to another new home.
P.S. See the guy making a mini horseshoe in the pictures above? They give the horseshoe to whoever's birthday is the nearest, and Andrew's was just four days away. I was more excited than he was, but we got to keep the cool mini horseshoe. A couple weeks later, when we found the horseshoe in a box, Ellie asked, "Mommy, when Andrew gonna give that to a horsie." Then we had a nice cute chat about tiny horsies…just because I wanted to hear Ellie say "horsie" in her sweet little girl voice.