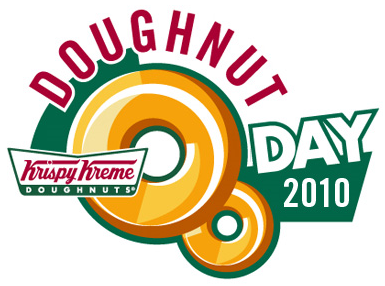 Today is the first Friday in June, which means that it is time again to celebrate one of the most magical events of the year, National Doughnut Day. On this day we give thanks for all the joy and happiness that doughnuts have brought into our lives. It is a time to recollect on all the events that have been enhanced by the presence of those wonderful fried rings of dough.
This year National Doughnut Day is particularly poignant for me because I am back in the land of a million doughnut stores: Southern California. Here it seems that there are doughnut stores on every corner, and happily almost none of them are Dunkin' Donuts. In Illinois there are quite a few doughnut stores, but 90 percent or more of them are Dunkin'. Upon our arrival in California, we stopped at one of the first doughnut stores that we saw, and were amazed to find that the doughnuts here are even better than we remembered. Hooray for good doughnuts!
Celebrate the day by getting yourself a free doughnut from Krispy Kreme, or one of the many other stores that are giving away free doughnuts today.