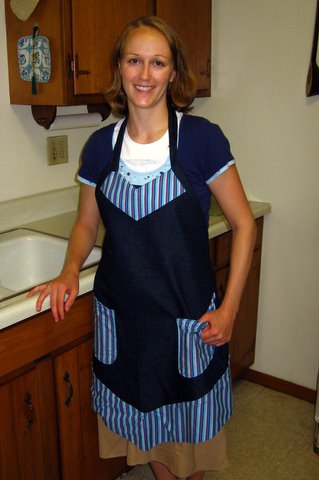 I've been wanting an apron for a long time now, but it had to be a cute one. Once I got the Blue Granny I decided to just make one, since it would be a pretty simple sewing project. It's denim with blue stripy parts. It turned out really well, and I learned a few sewing lessons in the process:
Use the type of material suggested on the pattern or you make a lot of work for yourself when you end up trying to sew layers and layers of thick denim.
I still don't know how to read patterns very well. They just don't put quite enough information in them.
Turning straps and ties right side out after sewing them is my least favorite part about sewing, especially when the material is too thick.
The sound of the sewing machine wakes Andrew up from his nap.
So there you have it. My cool new apron destined to save my church clothes from splashes and stains.