The Great Cromar Blog Catch-Up: Post 14 of 16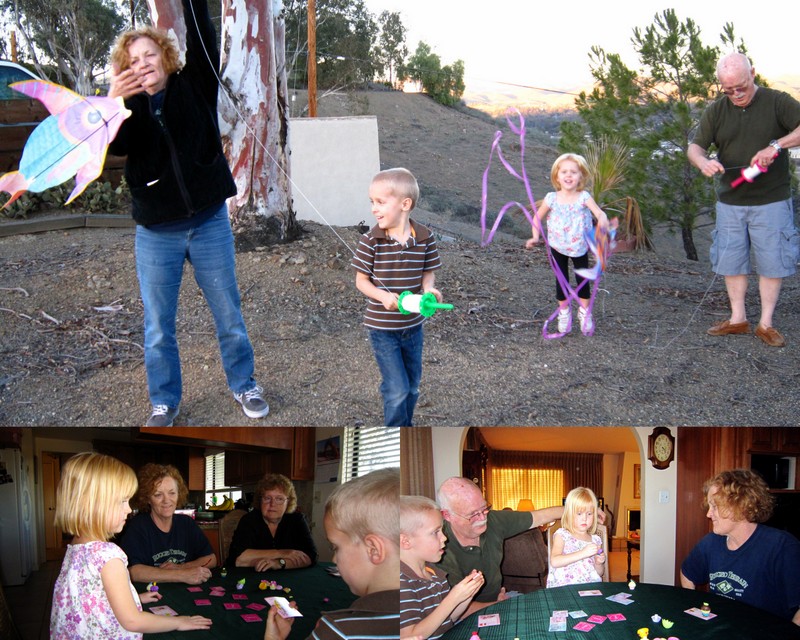 In our family, January is crazy for birthdays and the 15th is an especially big day. Just on the 15th we have my mom, my mom's dad (the 16th, but we'll count it), my friend Megan, my cousin, and Scott's brother Nick. (I think I got all of them.) And for the rest of January you can add in my dad and Scott's dad. Granted we don't celebrate all those people's birthdays, but still. Does anyone else have crazy days/months like that?
So, after the Christmas excitement died down, we got to have some fun visitors in mid January. My mom's brother Jim and his wife Lori came from Seattle and her brother Steve came from Redding (northern California). The kids and I drove to my grandpa's house to have dinner and eat cake with them. The kids had a ton of fun trying to fly kites there. My grandpa lives up on a hill with an amazing view of Lake Elsinore. I'll have to post pictures sometime. The kids managed not to fall down the hill…so far. We also played Disney Princess cupcake game that the girls got for Christmas. Jim and Lori were fun to play with and made the kids laugh a ton. I don't know why, but the Disney Princess Cupcake Party game is really fun to me. The cupcakes are so cute and it's pretty girly, but it seems sciency since you have to find the right pieces and put it together right…or maybe I've just been spending too much time around kids. Maybe I've lost my engineering edge. Either way, it's pretty fun. Andrew thinks so too.
Scott just informed me that The Hobbit will begin playing in 13 minutes. We started it last night and are trying to finish it. We can never watch a whole movie in one sitting these days. Spending just two days on it is quite the accomplishment. I'd better go, since I still have to brush my teeth and get ready for bed before the movie starts.