The Great Cromar Blog Catch-Up: Post 6 of 16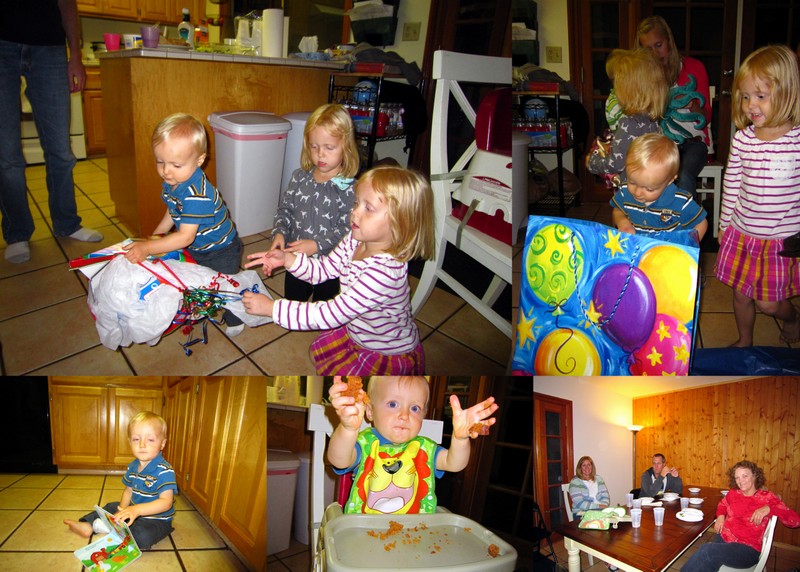 Miles is turning into such a little boy. Back in November, he was still almost a baby, but now he's not. We had a fun dinner with Scott's parents and my mom. Miles enjoyed his pumpkin cake and presents. I've been trying to capture his new developments, so here's a bunch of videos or Miles doing funny stuff.
By the way, don't you just love our blast from the past 70s wood paneling? Yeah, us either. It's all over our condo. (I always feel weird calling places by anything other than apartment or house, but it's a condo or townhouse, so in the name of accuracy…) Well not the whole thing, but the dining room, downstairs bath, girls room, and master bedroom. The girls room looks good, because it is just wood to chair rail height, and would be even better if it was painted. The rest of it not so much.
Because Miles gets so fussy whenever I have milk products and because he's competing with the three big kids for attention, he got into a bad habit of screaming like a siren whenever he wanted more food. We call it the Miles alarm. It's really grating on the nerves, so I started baby sign a tiny bit with him. We never did it with our other kids, but it helped so much. He could tell us if he wanted more or was all done, and I think it helped him to communicate better in general. It seems like he started talking a lot earlier than the other kids.
Let's see…some important milestones include
walking 10 months
words he can say: ball, die-da (diaper), ah duh (all done), more, ba (bath), yeah, hi, doggy
words he can say (that only mommy can understand): blanky, trash, guy (we call all our stuffed animals "guys" so Miles uses the term for real animals too)
I always think it's weird when suddenly your toddler can understand everything you say to him. Miles is definitely at that point. The he jabbers some nonsense back, and we pretend to have a conversation. Click here to see some funny videos of Miles just doing stuff. They might be a little boring, but for grandparents' and posterity's sake we keep them in. Also, watching the videos I will say that I do really like our back doors. I imagine you could look out at an ocean view through them. We can pretend right?