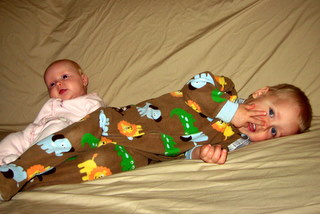 So it took a full year, before Andrew could sleep through the night consistently. Not to mention the torture of bouncing him, rocking him and pushing him in a stroller to get him to fall asleep. And the torture of him crying when we finally got strict about him going to sleep on his own…that was my hardest time as a parent so far.
Zana and Elira on the other hand…started sleeping through the night already (10:00pm to 6:00am). All I have to do is swaddle them and lay them in bed. Sometimes they cry a little and I pick them up, comfort them for a second and lay them back down. They're like magic or something.
I tend to assume that, despite trying to make Andrew a good sleeper, I must have gotten myself into the trap of bouncing him, etc. At the same time, I just feel really lucky that the girls sleep so well. Life would be so much harder if they didn't. So should I take the blame for Andrew's sleeping habits and the credit for the girls', or do I just assume it was in their personalities and I'm just lucky this time around?
Either way, dealing with twins and a 21-month old is not hard at all as long as you've gotten enough sleep!