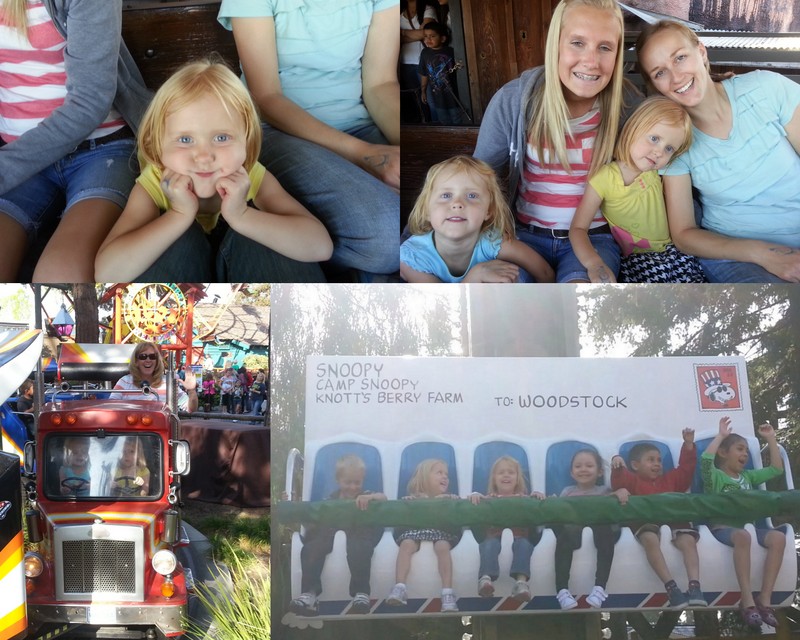 This is another post to show all our would-be visitors what there is to do in Orange County besides going to Disneyland. Let me introduce you to Knott's Berry Farm. Knott's and us go way back. Oh wait, wait, wait…this calls for more high school pictures…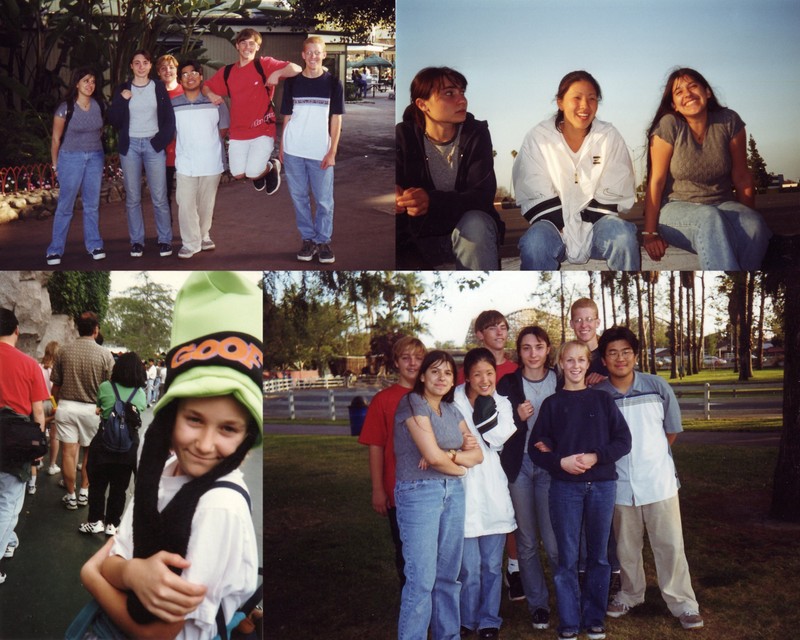 Scott and I have been going to Knott's Berry Farm together since middle school (but I don't have any of those photos scanned). Our school band had a competition there every year. The pictures above are some friends from high school and Sara is there in the goofy hat. Can you see that smirk on Megan's face (top right pic)? She was teasing me by asking if Scott was behind her, and whether that was why I was taking her picture. Pshhh. Technically Scott and I weren't dating yet, because he wasn't 16, but we were writing really sweet love notes to each other folded up all fancy. We wrote to each other like every other day.
Okay, enough of the flashback. Here's our fun crew now.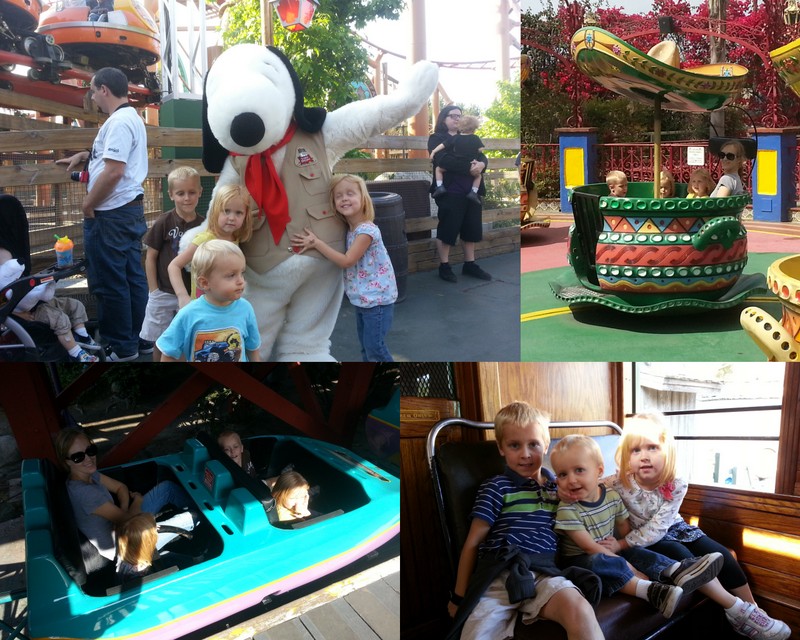 So Knott's Berry Farm grew up around Mrs. Knott's fried chicken restaurant, and was for guests to kill time while waiting to be seated for dinner. Now it's a full-fledged amusement park. As a side note, one time when Sara and I were about 10 and 12 or so, my grandparents took us to Knott's Berry Farm…for dinner…just fried chicken dinner. I remember being really confused that we would drive over an hour to a place that had roller coasters, to eat fried chicken…and not go on roller coasters. Not a nice thing to do to a kid. 😉 Just kidding. I guess my grandparents were of the era when Mrs. Knott's restaurant was the place to eat.
The whole thing is California themed (gold rush Ghost Town area, Fiesta Village, Boardwalk beachy area) with the excepting of Camp Snoopy which is for the little kids. There are tons of great rides for little, little kids. Miles can go on most stuff in Camp Snoopy with us, and there's even a roller coaster that Andrew, Zana and Elira can ride by themselves. Andrew has his special roller coaster that he can ride with an adult and it's a really fun roller coaster by adult standards. There are six or seven really great roller coasters for adults, including my all time favorite roller coaster Ghost Rider (do yourself a favor and wait for the very back car, it is sooo fast), plus a ton of other fun rides.
Are you sold on Knott's yet? Here's the best part…way. cheaper. than. Disneyland. Way cheaper. And so not crowded that during the week you can just walk onto everything, even the big rides. We're super excited we got season passes this year, which also get us into a waterpark. Part of my love of Knott's Berry Farm is the memories from going every year in high school, but seriously it's a great amusement park. So come visit us.