The Great Cromar Blog Catch-Up: Post 15 of 16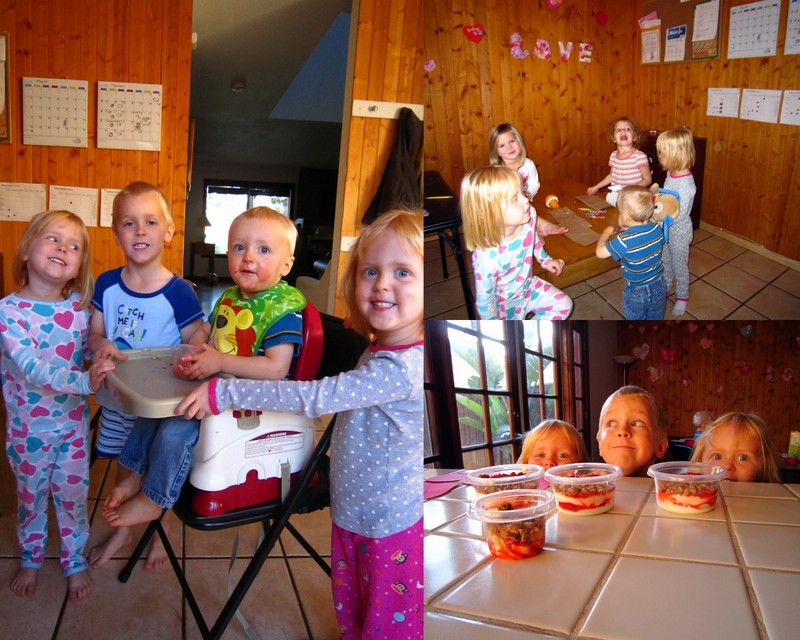 We had a fun Valentine's Day this year, though it was pretty simple. We started the day off with some strawberry parfaits. I really wanted one, but I am still nursing Miles and it still hurts his tummy. Miles had a yogurt-less parfait, and really liked it. Since then, I've been trying to wean the crazy guy with mixed success.
It happened to be my turn to teach the girls' co-op preschool, so we had a fun Valentine's themed day. You can see some of the girls' new friends in the picture above.
My favorite part of Valentine's Day though was our new tradition: the heart rock. You've probably seen the idea floating around the internet, but it seemed fun, so we gave it a try. The basic idea of the heart rock is to do a service for someone and then leave the rock there. Then it is their turn to do a service for someone else
Funny story though: I went out the front door to locate a small rock. Seems simple enough to do right. Irvine is so well-manicured (it employs an army of landscapers) I could not find a rock outside…anywhere. Eventually I found one weird-shaped broken off piece of rock in the bushes near a parking lot. That worked out fine and I painted a red heart on it.
We started the heart rock a week or so before Valentine's Day and thought we'd just go until then, but the heart rock is still in circulation. The kids' services are always something small (and sometimes I see the rock, but I can't actually tell what they did for me), but they are really happy to let you know they care and leave the rock for you. And they notice and thank me when I do something for them. I've just been going about my normal routine of cleaning up after them, but if I have the heart rock, I'll just stick it on the floor when I'm done, and lo and behold, they run up giving me hugs and asking if it was me that cleaned up the living room. So cute and so much love for Valentine's Day.