The Great Cromar Blog Catch-Up: Post 16 of 16
Hurray, it's the last one of our catch up posts! I did it! I never can understand how I think I'm ignoring blogging for a day or two, and really it's been a week. Maybe it shouldn't surprise me when I think I've been negligent for a few weeks and months and months go by. Same thing happen with emails too.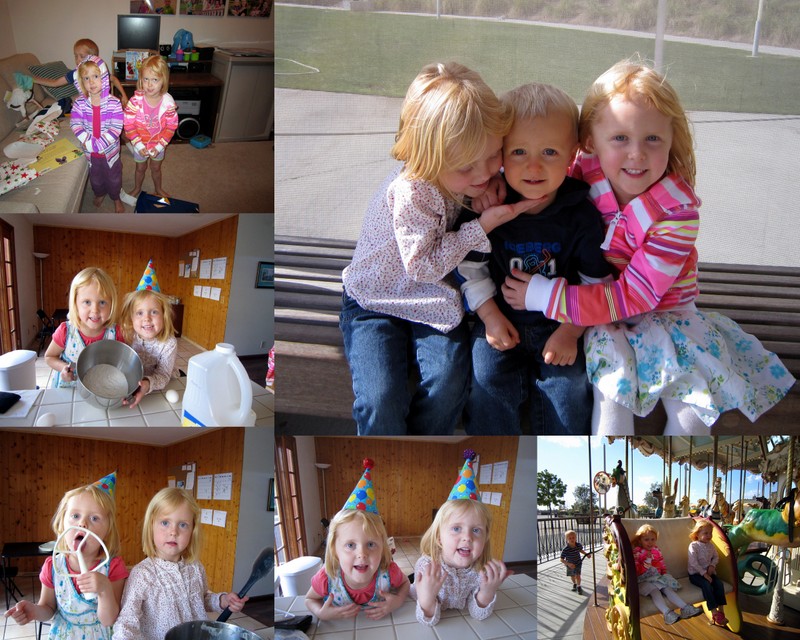 Little Zana and Elira turned four in February. Lately they have been acting like little ladies and seem so grown up. I'll have to admit, that four-year olds drive me a little bit insane sometimes. Remember when Andrew went through this and me waking up to find the kids chowing down on candy under the kitchen table. I just re-read that post about Andrew going through this stage. Seeing as how what I wrote sounds exactly like how I feel about dearest Elira-belle right now, I'm taking comfort and hope in knowing it will pass. Zana's taking a backseat on this one right now and has stayed fairly mellow. Maybe she'll start pushing her boundaries next.
Anywho, we didn't do too much for their actual birthday. A couple of friends came over for a play date the day before, and then on their birthday we baked a cake, painted nails, and went to the Orange County Great Park. They have a cool balloon ride that looks like a huge orange. You go up and can see all of Irvine and some of the neighboring cities. It's tethered to the ground, so then they just pull you back down. We didn't actually go on the balloon that day, since it was too windy. They have a free carousel, so we rode that a few times.
Can everyone tell which girl is which in the pictures? Elira is the one wearing the white shirt with little red roses on it. Zana has the coral shirt under a white and blue dress. Miles is looking so grown up in that picture above too. He is really photogenic and loves to say cheese for you and give you a nice smile. All the kids want to be in photos with him too, so we're ending up with a bunch of great pictures of all of them together. The girls really love to take care of Miles. They're like little mommies.
The next week after their birthday their grandparents came to celebrate. They wanted a Santa cake (see below). After lunch and presents the kids got a hold of the camera and we let them take some pictures (which we never do). The following craziness ensued: