We've really been doing a lot this fall that I haven't written about, but I know everyone is dying to see pictures of costumes. So without further ado, I bring you…Halloween 2011.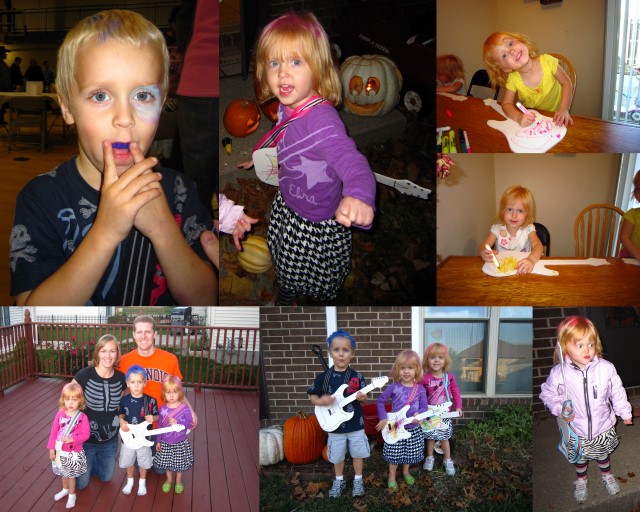 The kids were rock stars and the baby and I were skeletons. I was going to make Scott a skeleton costume too, but I never got to it, and the kids were sad he wouldn't get to dress up. I don't think he was too super sad about it. You'll have to check out the details on Zana's and Elira's shirts, since I made them personalized rock girl shirts (I made my shirt too, gotta love freezer paper stenciling)! I made the guitars out of foam board and some belt straps, and let the kids decorate them.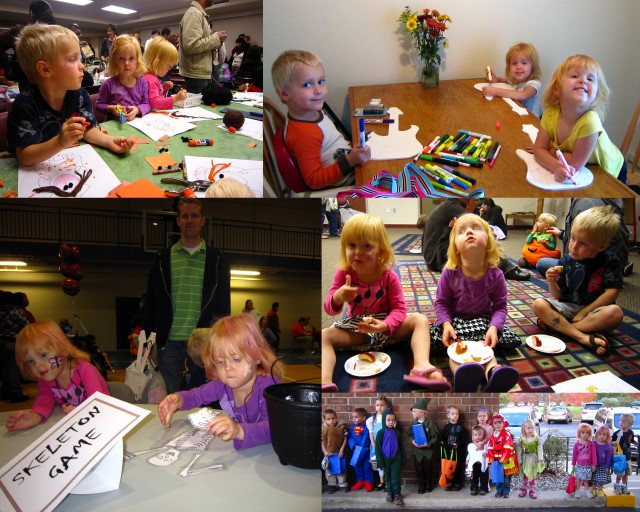 Besides "real trick or treating" we had a lot of fun activities going on last week. I think I had as much fun as the kids. We got their fake tattoos, face paint, and hair spray put on several times, and had so much fun giving them their own styles. Then we'd walk out to the car with Andrew singing, "We're rockers, we're rockers," and head banging all the way there.
In total, we had a party with friends from law school, a costume parade at a local nursing home (in reply to seeing a poor, sweet old woman who was clearly enjoying the kids in costumes, but could only wave at the kids and make strange grunting sounds at them, Andrew asked, "why do old people say such weird stuff?"…umm, I guess I should have prepped him a bit), dinner at Steak and Shake in costume with Scott, a Halloween activity at a rec center nearby, Halloween story time and crafts at the library, our ward Trunk or Treat, and of course "real Halloween" trick or treating. So fun!
I haven't been feeling up to cleaning the bathtub lately (the little baby is due in just 10 days…ah!), so there is a blue-ish purple ring around the tub from all their hair spray, and the girls have been totally excited about their hair turning the bath water pink. Maybe after his test this weekend, I'll ask Scott to clean the tub…he's been busy studying.
Anyway, more Halloween pictures here, and maybe soon I can work on pictures of our other fall activities and also post any videos we might have lying around on the hard drive.