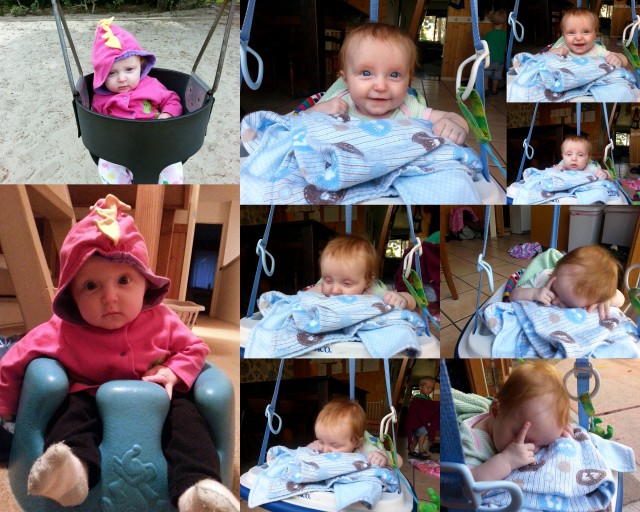 Oh man, I have been putting so few Lydia pictures up on this blog. It's so sad, but to say we are busy would be understatement of the year. And the kids go to bed a lot later than they used to. I really miss having a lot of time in the evenings to do stuff. Anyway, Lydia is rapidly approaching six months…I cannot believe it. Honestly, I feel like it is about March. We've started doing summer stuff though, so I guess it really is June.
The pictures above were from her first time in a swing, her bumbo and her doorway bouncer. She totally fell asleep in the jumper.
Lydia is just the sweetest, easiest, best number 5 baby a person could ever ask for. She is really so happy all the time. I mentioned before that she would wake up at 5 am and eat and go back to sleep and that was the only time she woke up at night. For the past few months she goes to bed around 8:30, then I feed her around 10, and she sleeps until 6 or 6:30 every night. It makes life so much easier for me. The only sleep deprivation I get is my own fault for staying up too late working on things.
Lydia has been less mobile than our other babies so far…this is probably a good thing. Andrew was probably our most mobile baby and was crawling before he was about five months, and if you watch our old super video starting at around 2 minutes 20 seconds, you can see him pulling up to standing at 6 months…he just wasn't normal. Here's him walking for the first time (at 8 months) just for kicks…man we did long videos back then. Start watching about 2 minutes in.
Okay, now I think we need some links about the other babies. Here's the girls crawling on each other (the first video). They crawled a little before 6 months as well. Here's some more fun videos from that era. Elira started walking just before she turned 9 months and Zana a couple weeks later. I couldn't find a blog post with video of the twins walking, so here's a never-before-seen video of them playing with Grandma and Grandpa Cromar.
Now, I can't seem to find blog posts on Miles hardly at all from that age. He was just so good at tagging along with everyone, I always wrote about what the bigger kids were doing, and never really did any milestone posts. I'm going to have to do another post about him another day, since Picasa is acting a bit strange and it's getting late. But here's to little kids getting bigger and me re-learning how to put more videos into blog posts. There will be more to come from here on out.
Back to our cutest, newest baby. She's so snuggly and cute.