The Great Cromar Blog Catch-Up: Post 2 of 16
We're backtracking a bit here, but this post was already all written and everything. I don't know why I never posted it. Maybe I was going to add something. Oh, right I was going to add in a video. Great that's going to take me another 10 or 15 minutes here, but it'll be worth it. Actually, that took like an hour, but I fixed a computer thing! (And without immediately asking Scott to do it, which I usually do, since it takes him like half the time it takes me.)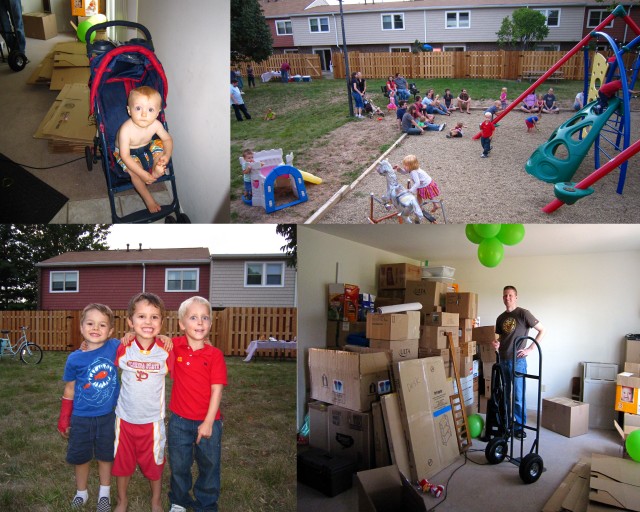 Miles and I got back from Montreal and got right to work packing, packing, packing. I generally like change and like moving, but this one took a toll on me. I guess we've jest acquired a bunch of stuff now. Our friends Ashlee and Corey hosted an end of summer ice cream party in our shared back yard. We really miss having so many great friends around. You can see Andrew above with a couple of his friends Henry and Benjamin.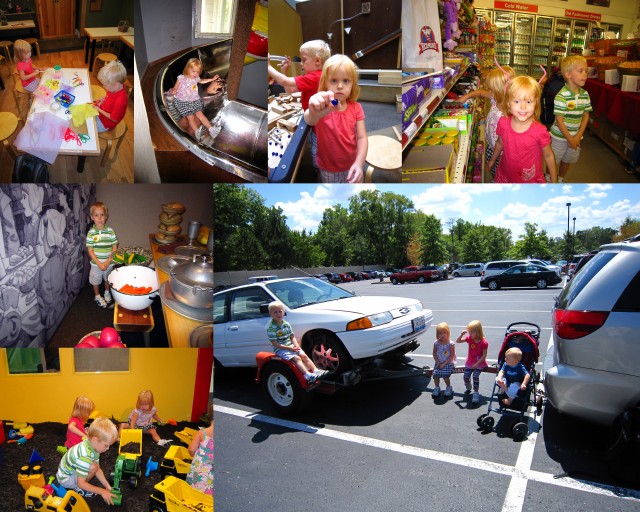 For our final trip from Illinois to California we planned a few fun activities for the kids. Miles had his last doctor appointment in St. Louis (for his helmet), so we drove there the first day (180 miles) and stayed overnight in a hotel. Scott took the older kids to the children's museum there while I took Miles to the appointment. We stayed until lunch, and then drove all day and all night.
That morning we stopped at a children's museum in Albuquerque, New Mexico. That's 1,045 miles we drove in one stretch while the kids were asleep. Again we stayed at the museum until lunch, then drove all day and all night again (another 774 miles). In the middle of nowhere, we stopped at "The World's Largest" Gift Shop and Candy Factory," which as anyone who has driven through long stretches of nothingness can guess was just a glorified convenience store. The word "glorified" here really doesn't do justice to the insane number of football-field sized billboards dedicated to getting me to stop there. Anyway, stop we did, and the kids were hilarious in their excitement over seeing so much candy.
This was the first time we'd taken the southern route between Illinois and southern California. Normally we drove through Kansas, Colorado and Utah, but we didn't think the van's transmission could handle going through the Rockies while towing the Escort.
We had debated about keeping our little white Ford Escort and even posted it on craigslist for a few days to sell it, but at the last minute we decided to tow it and keep it. Yay for me! I've had that car since my sophomore year in college, and it has been the best possible car ever. Seriously, it never breaks. Love it. Also, I feel better now that it can live out the rest of its life in warm weather. I drove it to Illinois and back when I had an internship near Chicago before my mission, and then drove it out again when Scott and I moved there. I just felt sad for it to have to die a slow death in freezing cold winters. But that's past us now. I've done right by my car, and hopefully it will repay me and serve our family for years to come.