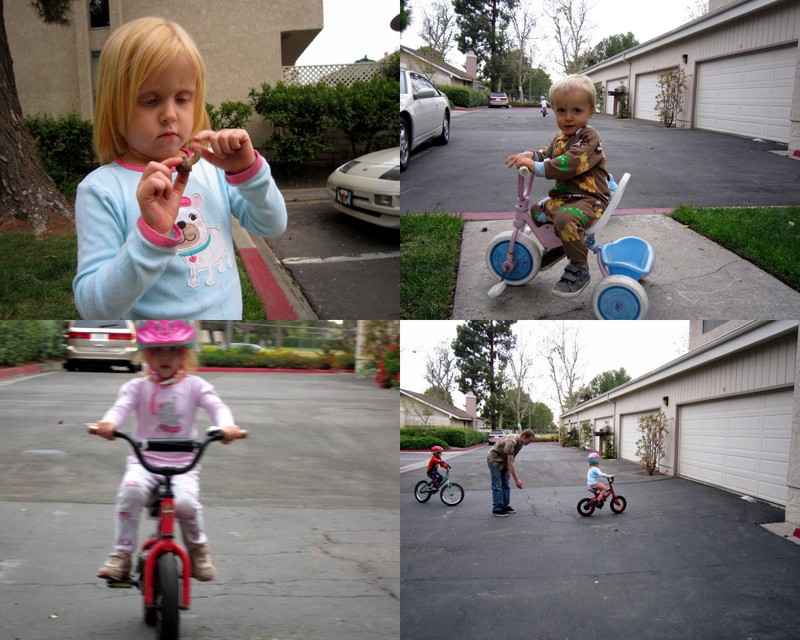 I'm forcing myself to sit down in a comfy spot and take a break for a bit. Throughout the day, we're either out doing things or I just tend to wander around the house looking for things to do. However, this pregnancy I have had sciatic nerve pain like nothing else and it just is not going away. So I'm committing myself to sitting and resting, and maybe I can get caught up on our blog again.
So anyway, a couple of months ago, the girls wanted to ride bikes with no training wheels. Daddy was nice enough to run around holding them up, and off they went. They learned pretty quickly. It was funny to see some of their personalities in the way they ride. Zana was more aggressive and once she figured it out she was trying out sharp turns and stopping just before crashing into the curb. Elira, on the other hand, rode slowly and steadily the whole time. We couldn't even get her to practice turning unless Scott ran ahead of her and stood right in her path. She had no trouble going around him, but that was the only way she'd practice turning.
They are both pros by now, and have moved up to a 16″ bike. Which reminds me that I still need to buy another one of those and sell the smaller bike. Here's some more pictures and video.