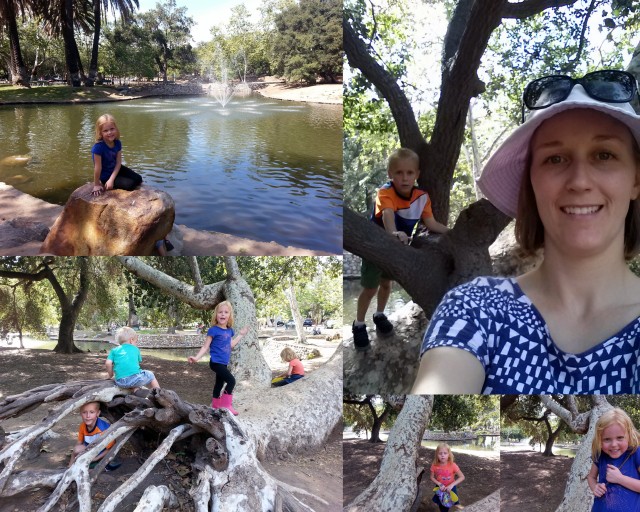 We've been trying to be adventurous even with a new tag-along person. These are some photos from our fun this spring. We went to a park that has a little zoo. There are not very many things around us that are cheap or free to do as a family (and if they are fee they are overrun with people), but this park is about as close as you can get.  $3 for parking and $4 for the zoo for all of us. I think I've posted before about the train ride, pony rides and other things there are to do, but this day we just explored the zoo and walked around the park. Miles got so tired that while walking back to the van he just sat down behind a tree trunk. I couldn't see him at all and it scared me. He was too tired to answer when I called him too. I found him after a minute and he just said, "me sad." I carried him back to the van and he fell asleep on the way home. Poor guy. It's so hard to give up naps, sometimes you just have to sleep.
A couple of days later we brought Scott back to this park and rented a 6-person bike. It was fun to ride around a bit as a family, but since Scott and I were the only ones peddling it was hard work and we had to get out and push some.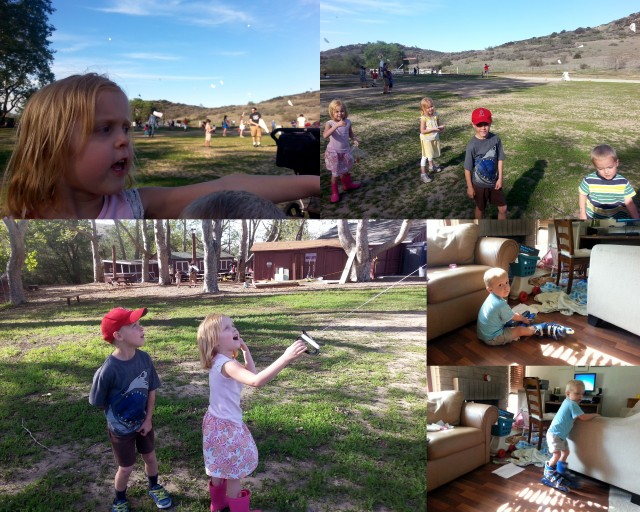 A couple weeks after our park trips we flew kites. It was an event put on by the city, but you have to sign up for it, so it wasn't overrun. I took the kids and we got a kit to make a kite. The kids got to color it and attach the strings and sticks. Let me tell you, it is tricky to help four young kids keep their kite from flying away while they color it and to help them assemble it all while either wearing a baby in a baby bjorn or trying not to stray too far from where she is sitting in the stroller. We managed to get it together , though. Then we took turns flying the kite and enjoying the perfect weather.