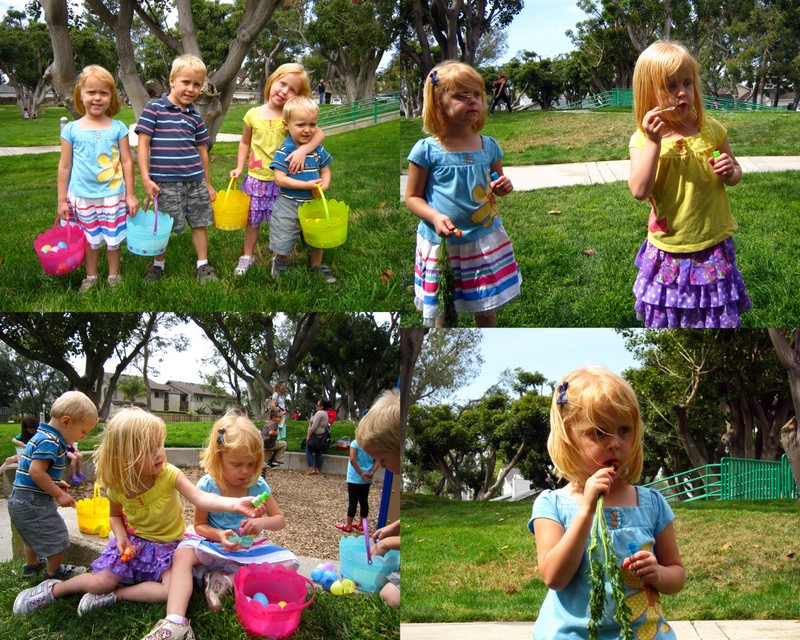 I was reflecting on the kids' understanding of the resurrection, and I just remembered a new funny gospel discussion we had the other night.
Me: What did Jesus do for us?
Andrew: He died for us? And was resurrected.
Me: Why?
Andrew: So we can live again.
Me: Yes. Okay so, Jesus saves us from death, and there's another thing Jesus saves us from. Do you know what that is?
Kids: (puzzled glances and silence for a few seconds)
Zana: Drowning in the ocean, 'cuz he can walk on water.
Elira: Also, life guards.
It was so cute and innocent and correct, assuming the Savior was in the vicinity of you drowning in the ocean. The kids all are learning so much about Jesus and they try so hard to be good.
The week before Easter we had Kim and Tara come visit (We went shopping…at a mall…for clothes for me. It was awesome, since most of my clothes are literally falling apart, and I don't spend the time to go shopping.), and then my mom came the next day (We had a great day at the Orange County Great Park, and she took us out to lunch. We are so spoiled.). The day after that we had a ward Easter egg hunt. The next day we went to an Easter egg hunt at Albertson's (a grocery store for those who don't know, also it gave out really good candy).
Easter was nice, but it didn't really turn out as planned. Although, I didn't really have a plan, it just was kind of a weird day. Having church at 11am makes things hard. We had a fun family Easter egg hunt in the morning. Miles was feeling sick with a sore throat and cough that lasted a week and ended up getting all the kids sick later. So I put Miles down for nap early and was going to go to church late when he woke up. The kids were supposed to sing during sacrament meeting with the primary, but Elira revolted at the last second, refusing to go up, and the other two followed suit. I finally made it to church for the final hour (trust me, Miles was waaaay to grouchy to wake him up any earlier), so I could help Scott teach Andrew's Sunday school class. I think we all left church feeling slightly frazzled.
After church we just went home and ate the ham that had been cooking in the crock pot (which turned out to be a highly successful way to cook ham by the way). We browned it a bit in the oven and got ready for an early dinner…which the kids refused to eat. Whatever, so we sent them off to play, and Scott and I ate a nice meal together.
All in all it wasn't a bad day, but it didn't really feel like a celebration. And I really like Easter. Partly for all that it stands for religiously. I want to really celebrate and remember and enjoy the atonement and resurrection. And partly because growing up it was always a calm, relaxed holiday that we spent with family that also involved a few gifts. What kid wouldn't like that?
So anyway, I think next year I'll come up with something simple and spiritual to do.
Oh, and by the way there are a ton more pictures and video posted here. I have some more posts planned to talk about some of the other things we did during spring break.