The Great Cromar Blog Catch-Up: Post 11 of 16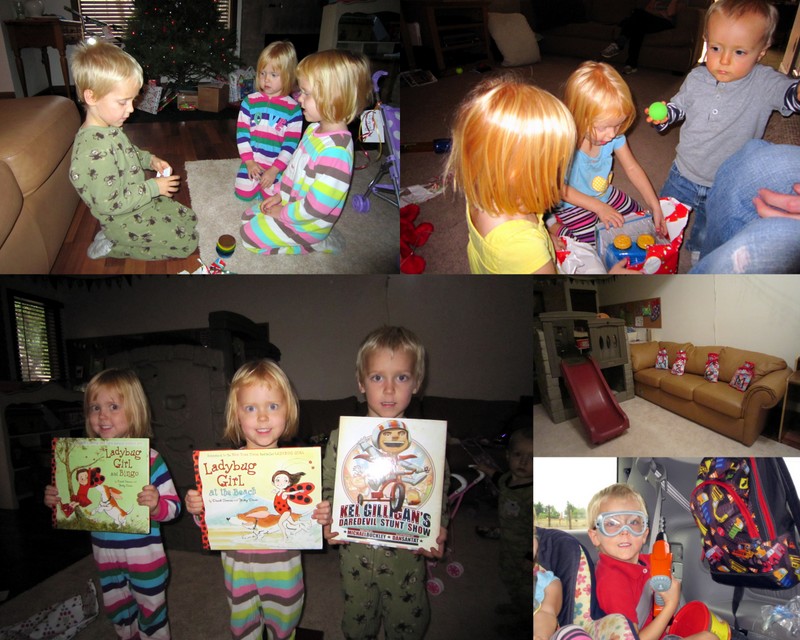 Our Christmas this past year was really, really, sweet and fun. I started a new tradition of picking out special book that I thought reflected some of the characteristics of that kid. Then, I wrote a special letter to them inside to let them know how special they each are in their own way. This year the girls got Ladybug Girl books. I love the illustrations in these books. They are so pretty and calming. The books touch on emotions and experiences that are so characteristic of childhood: going to the beach and overcoming fear of the waves, and exploring the outdoors while camping. Ladybug Girl really reminds me mostly of Zana, but I know Ellie loves the stories too, so this was a year for matching books.
Andrew's book was Kel Gilligan's Daredevil Stunt Show. It was about a boy who treats the everyday challenges of toddlerhood (getting dressed, eating new foods, taking a bath) like a daredevil would and he overcomes them all. Kel Gilligan faces challenges that Andrew passed years ago, but Andrew is such a daredevil this book fit him. Andrew never accepts that he is too young to do something, and I am always surprised by his physical abilities and agility.
I didn't get Miles a book, because I was going to make him a quiet book for church. I never got to it though. Maybe I should at least write him a nice letter to read when he's bigger.
The other big presents were a big bike for Andrew. Santa accidentally brought him an 18″ bike instead of a 16″ bike. We had to help him get started on it at first, but he already has it figured out now. The girls got doll strollers, which they have wanted for years. Miles got a new slide to climb on. It is much bigger than our previous slide that we left in Illinois. It's kinda too big for our house or back patio, but Santa couldn't pass up a great deal on craigslist and still is tempted to sell it for more than twice what she, I mean he, paid for it. But the kids are kinda attached to it now.
After opening up presents at home, we drove to the Cromar's house for more presents and lunch. Then it was on to Great Grandpa Wilkie's house to be with my mom and Sara, Jonathan, Emmy and Lanea. We had Christmas dinner there, and opened more presents. The kids were totally spoiled this year.
I saw a cute quote from the movie Elf on pinterest, so I printed it up and framed it for Jonathan and Sara. They love that movie (especially Jonathan), and I thought it would be a fun Christmas decoration. Aren't I a nice sister-in-law. Then Scott had the idea to make it an even better gift by including with it  an "autographed" photo of Zooey Deschanel. We hyped up the gift by telling Jonathan that it was the best gift he would ever receive, so he was a little scared about what it might be. In the picture below, I love how when Jon opened the gift, both he and Sara were super excited and amazed by it. Then disbelief set in. We never intended to make them believe it was really real, though, so that was okay. We just thought it would be fun for them to have a signed picture of her to display every year with their Christmas Elf quote. And they can tell their friends it's real if they want.