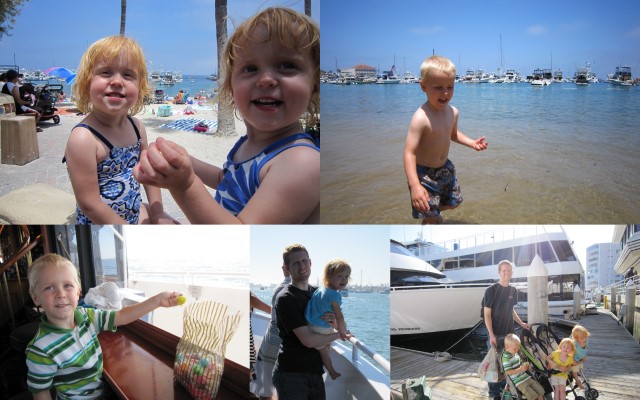 This post should be filed under travel advisory posts. One of the social activities that Scott's firm was doing was a day trip to Catalina Island. It was the only one that you could bring kids to, so at the beginning of the summer we signed up to go. Just a few days before the trip we found out that it would require a 3-hour yacht trip there and back. We questioned our sanity, but decided to go for it.
All in all it was a fun day. Everyone was tired, but the kids were excited to go on a huge boat and behaved really well on board. We only had a couple of hours on Catalina Island, so we really just walked around a bit, ate our lunch at a playground and then let the kids play on the beach for a while. No one got sea sick either, so that was a plus. And I bought salt water taffy from the same candy shop I did on our honeymoon, which was semi-romantic, and good salt water taffy is really hard to come by.
However, I decided a quick day trip is not really the way to enjoy Catalina. So the rest of this post is for those planning on going to Catalina sometime. Scott and I have actually been twice. The first time it was a stop on the cruise we took for our honeymoon. We didn't know about planning activities ahead of time, plus who really wants to go snorkeling or kayaking in December anyway. So, we just walked around the island and shopped and bought a milkshake and some salt water taffy. After that we were bored, so we went back to the cruise ship early to umm, play board games.
So after this second quick trip to Catalina, we decided that to really enjoy Catalina, you have to stay a couple of days. It could be a really relaxing getaway vacation if you could do a couple of activities each day mixed in with some lounging at the beach, some eating out, and some touristy shopping. Also, it's not really the place to take little kids. Our kids had fun, but most of the activities are more for adults in that they require swimming or hiking or are boring for kids like shopping.