Day 5: Downtown Montreal and a Hike up Mount Royal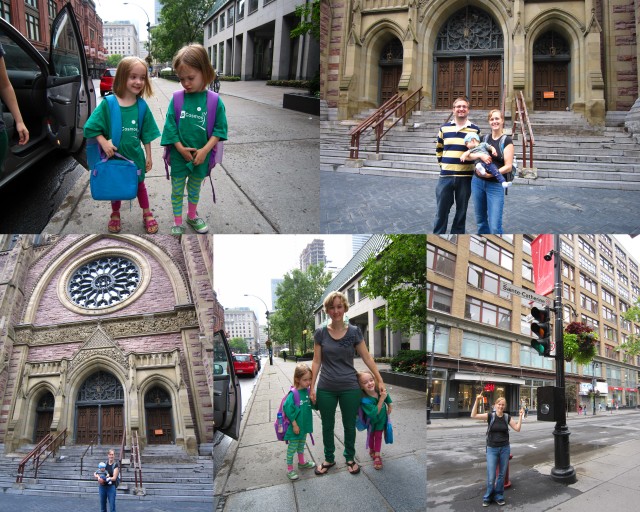 Sara's girls had day camp to go to, so we dropped them off, popped over to see the church that Jonathan works at. We pretended Miles was giving a sermon and listened to Sara play organ and piano and sing for us.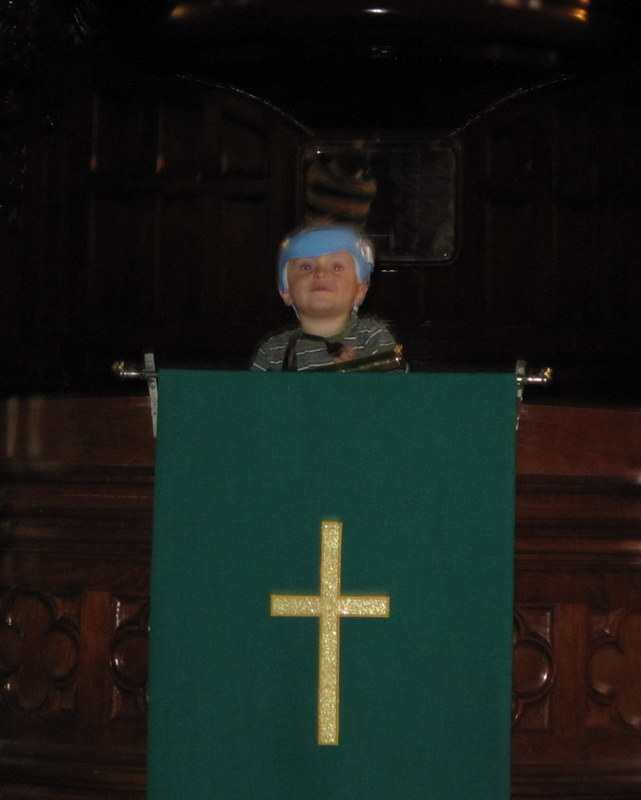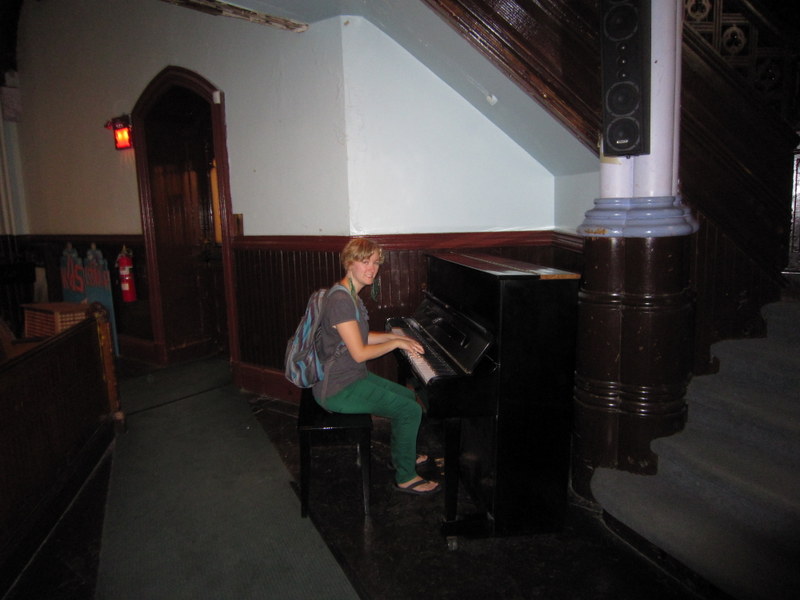 Jonathan had to go after that, so Sara and I explored downtown Montreal on our own. We got some crepes for breakfast, and shopped in an underground mall.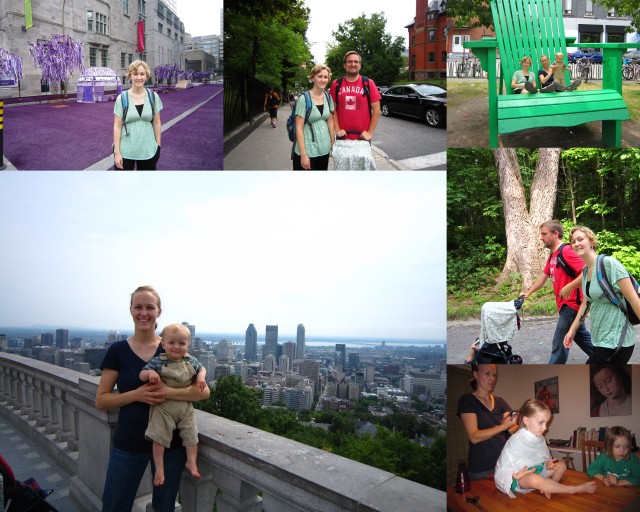 Jonathan rejoined us after lunch. We walked by something purple that Sara thought was cool, but now I can't remember what it was…some sort of outdoor art. Then it was up Mount Royal we went. Jonathan pushed Miles, who fell asleep. So gallant of him…Jonathan I mean, but I suppose Miles was also gallant in falling asleep without being grouchy. Anyway, it was a pretty hike, with a really nice view at the top. Mount Royal overlooks the whole city and river, and there were even pointers to tell you which historic buildings you were looking at.
We took a bus back down the mountain, and went to Emmy and Lanea's day camp. They were having a talent show that day. We watched the show and ate the potluck lunch. I met an Albanian couple. The wife had lived in a little town called Elbasan, where Scott had been a missionary. They had a daughter in the same day camp as Emmy and Lanea, who at first didn't speak English or French, and no one there knew Albanian. She was learning quickly, but I guess still yelled in Albanian whenever she was mad.
We finished off the day by giving Emmy and Lanea a hair cut. It was their first one ever in their whole lives. I was honored, because really my skills are not that good. They're decent, not great, but the haircuts turned out cute.
Day 6: No More Sarah's House or Sara's House
A heretofore unmentioned aspect of our Montreal trip was our evenings spent watching my favorite HGTV show ever. For those who don't know, I have somewhat of an obsession lately with HGTV and all things home decor. Sarah's House is my favorite show, but since it is filmed in Canada, sometimes HGTV in the US doesn't put all the seasons on their website. Taking advantage of a Canadian internet connection, I forced Sara and Jonathan to watch with me. It was fun though, making fun of how "absolutely necessary" $20,000 tile and $5,000 artwork is, whilst still enjoying good interior design. Sadly, we didn't make it through all the episodes in the season we were watching. But, conceding to my need for sleep, I had to say goodbye to Sarah's House.
Our final day only allowed enough time for tasting poutine (french fries topped with brown gravy and white cheddar cheese curds), and some last minute gift buying. I didn't get to fully enjoy the poutine because…well, it's french fries with gravy and cheese curds. Actually just kidding, poutine is pretty yummy, but Miles gets a tummy ache when I eat dairy, so I had to avoid the cheesy goodness. Then, we said goodbye, and I proceeded to get lost in the airport while carrying luggage and car seat and pushing a stroller. I soon found my way, checked the baggage and relaxed for the rest of the trip home.
Miles was a great little travelling buddy. He slept during every flight we had, and just played around on the floor and under the seats at the airports.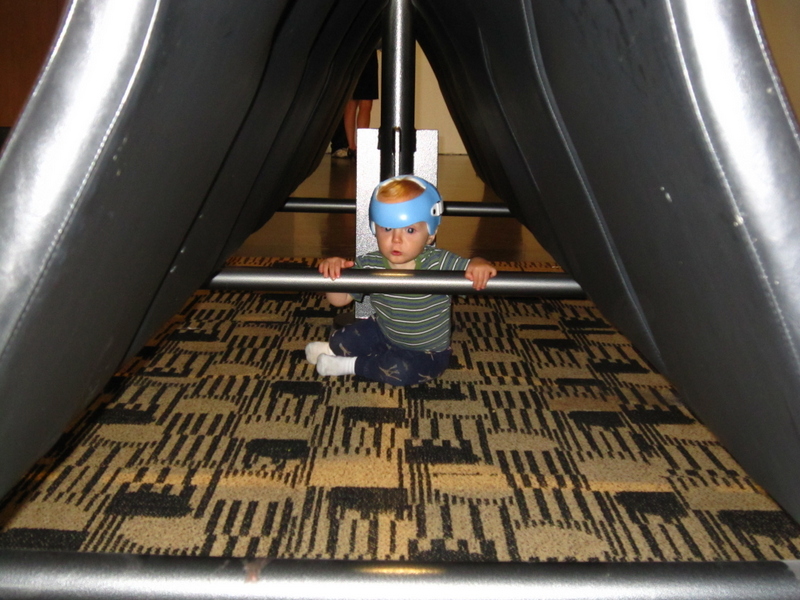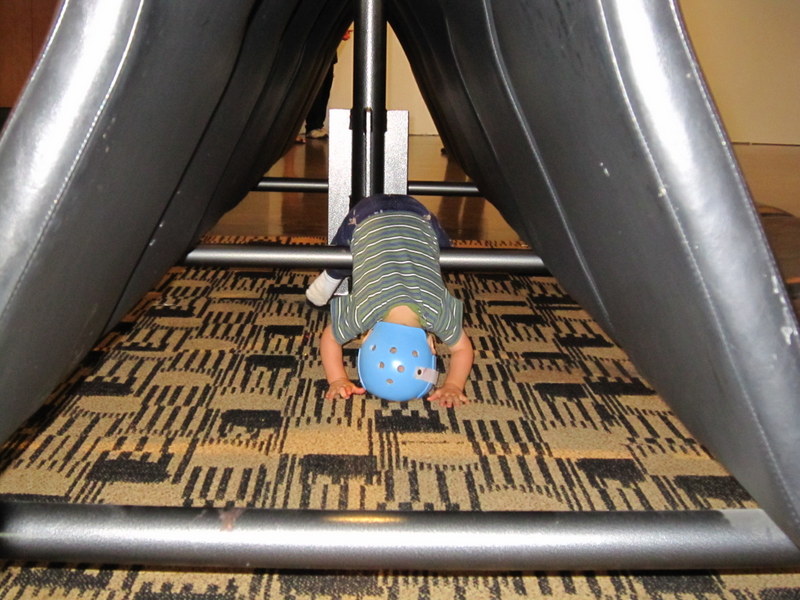 (He got stuck like that, and I had to crawl under and save him.)
Overall, the trip was amazing. Sara and Jonathan want to move to Montreal permanently. Before I generally thought they were crazy, but I definitely see the appeal now, and if it means I get to visit them there all the better. If they move there it'll give me an excuse to add French to my repertoire of languages.  I think Montreal is the most bilingual place I have ever been, with very international residents and tourists, and I loved how it felt like being in Europe again. So historic and fun.
And thanks to Sara and Jonathan for being excellent tour guides, making sure I saw all the most important areas of Montreal and for hanging out with me.