Day 3: In Montreal with the Cathell-Williamses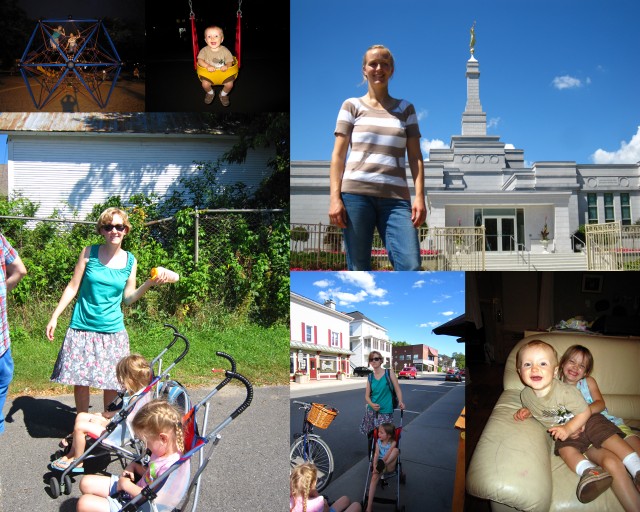 After a quick stop to see the Montreal Temple, Sara and Jonathan drove us to a little town about an hour away from the city. I couldn't remember the name of the city, but maybe Sara can supply that info in the comments section. We checked out some used book stores, looked around toy stores (where I almost bought a hockey-playing, Canada-flag wearing Mr. Potato Head). It was good to catch up with Sara and Jonathan and see some beautiful scenery to get a feel for provincial Canada.
I think I should have taken more pictures…oh well. We ate lunch and I got what Scott calls suflace (I don't know if I spelled that right, but it's pronounced soo-FLA-che), which is basically a gyro. Not super French or Canadian, but it was yummy. Later we drove home and hung out at a park and Sara and Jonathan's apartment.
Day 4: BioDome and Old Port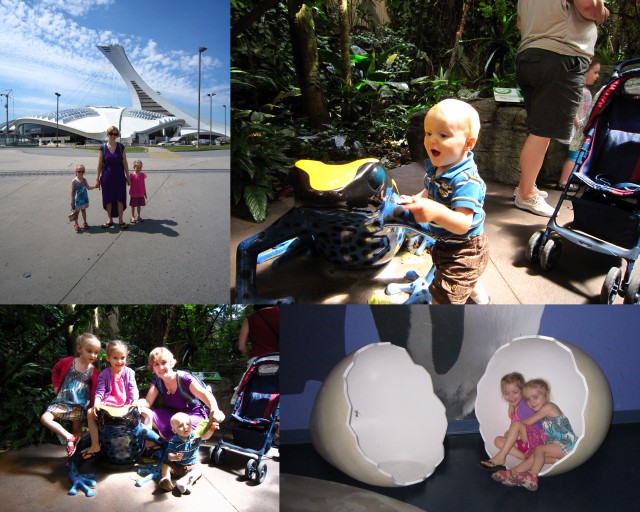 Jonathan had to work the next day, so Sara and I were on our own with the three little ones. Sara used her mad French skills to get us around. It was her goal (for her whole summer in Montreal) to speak French so well that the people would not speak back to her in English. First we checked out Montreal's stadium turned zoo the BioDome. The BioDome is divided into four ecosystems with animals and plants all hanging out together within each ecosystem. Emmy, Lanea and Miles had fun. My favorite part was the Laurentian maple forest area, because I learned about some of the Quebecois native species.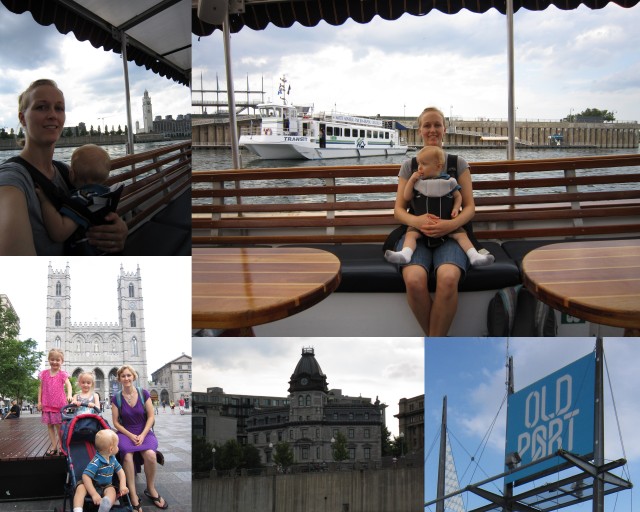 After the BioDome, we took a tour of Old Port, which as you might guess is the older more historic area of Montreal. This was probably my favorite part of the trip, because I realized just how old Montreal is and how much history is there. It is right on the St. Lawrence river, which flows northeast from Lake Ontario to the Atlantic, and it was first explored by the French in the 1500s. Before actually visiting Canada, I kind of assumed it was a less populous copy of the US, but learning the local history made me realize how much has happened in this place that I generally ignore.
Anyway, we took a boat tour of the city. Sara tried out her French, but the boat captain smiled and replied in English. We didn't fool him. I on the other hand spoke more Spanish than I had in a long time. Another passenger on the boat tour was from Argentina, I bought some earrings from a Chilean, and chatted with a group of three girls each from different Spanish-speaking countries. After our boat tour we shopped a bit. I found a really cute sun hat that I regret not buying. I've been wanting one for a while and never go shopping for hats, but I still figured I could find one cheaper on clearance or something. But I still haven't gone looking for one, and I wish I had my cute Old Port hat.