This past Tuesday was Andrew's first experience of attending preschool outside of someone's home. He was at a real school (a high school in fact) and had a real teacher. Up until now he's enjoyed doing "joy school" or whatever you want to call it where my friends and I switch off being the teacher for all our kids. He's loved that, but we thought he needed a little more structure since he'll be starting kindergarten next fall.
So Tuesday morning Andrew woke Scott and me up around 7:30am, by standing next to our bed and whispering, "Moommmmy…Mooooommmmy." I opened my eyes to see him fully dressed, with his sweatshirt and shoes on, and his "messenger bag" packed with the sandwich I had made the night before. (They don't even eat lunch there, but he insisted on bringing a sandwich in his very own sandwich tupperware that has sports balls on it.) He had even eaten breakfast already (without parental help), and he just wanted to know if it was time to go yet. It was the cutest thing ever.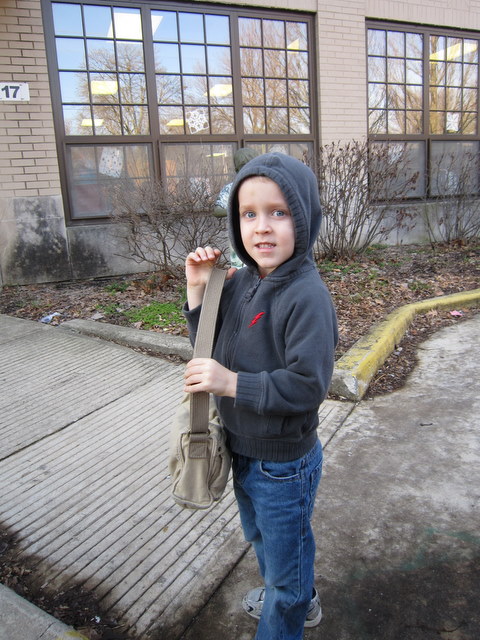 He had a lot of fun at preschool, and didn't get upset at all when I left. His school is run by a teacher and some high school students. The high schoolers are taking a child development class, and part of their class is to help out in the preschool. They are assigned a preschooler to work with, so Andrew gets a lot of one on one time. He did some cool crafts and learned all about penguins this week. I had a ton of fun asking him about what he learned each day, and I loved that he wanted to give me a kiss goodbye in the mornings. By the end of the week we were all extra sleepy from our new, busier schedule, and enjoyed having Friday to ourselves, but I'm sure Andrew will be back to being super excited by Tuesday when he can go back and learn some more.